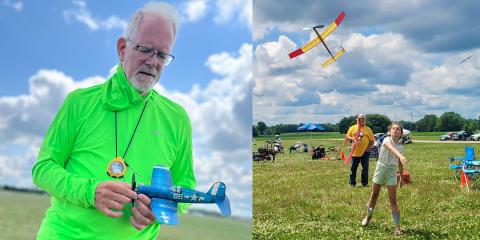 By Don DeLoach
Friday, July 21, was the final day of 2023 Free Flight (FF) Nats competition. The forecast called for partly cloudy skies and light winds. Instead, we got served an unseasonably cool morning, clouds for almost the entire day, and steady winds of 5-10 mph from the northwest. It wasn't unflyable, but it was more challenging than expected. Here's why.
The west side of the field is notoriously green and wet. On mornings without sun, there tends to be a lot of sinking air within about 100 feet of the ground. This results in poor flight times for models that can't climb high enough to avoid the sink.
Friday was P-30 day, and most P-30s fell victim to the sink. Only Chuck Powell, Frank Perkins, and Tom Batz managed to record three two-minute maxes in P-30, and they finished in that order.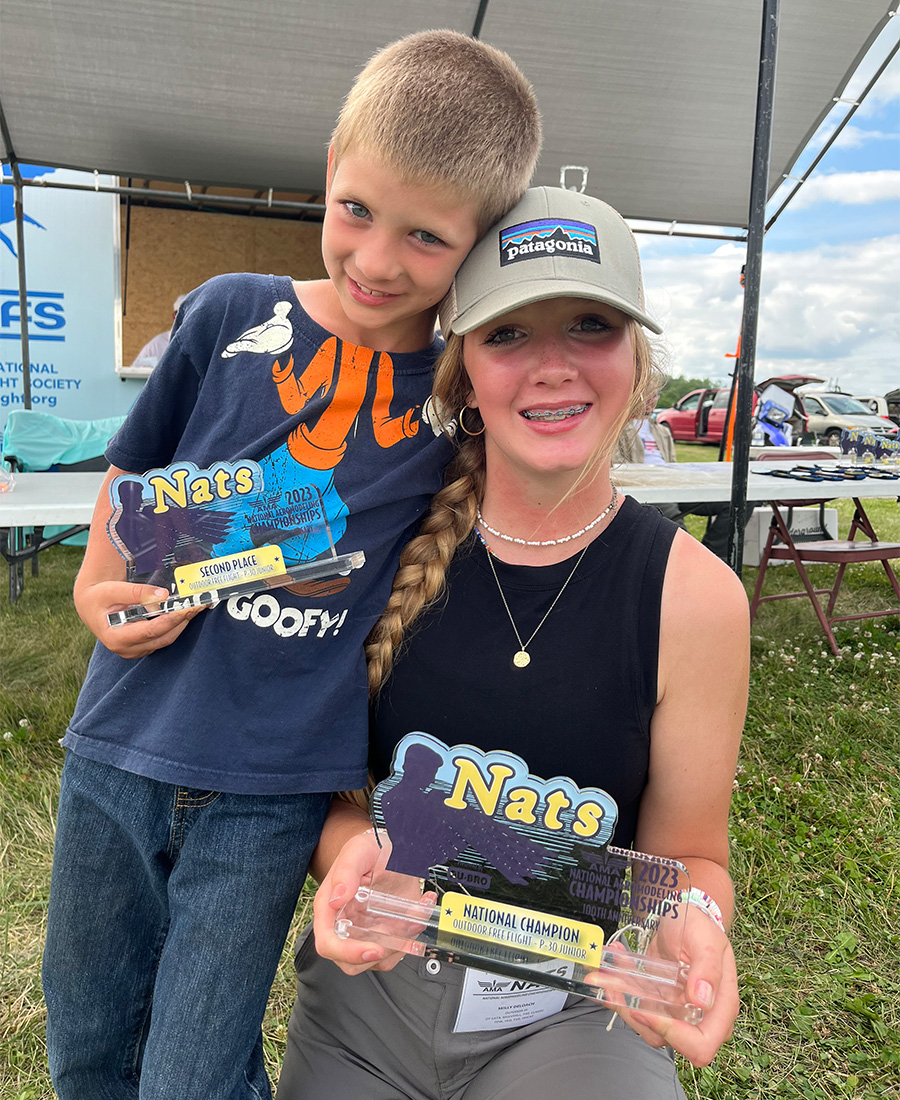 There was a terrific, competitive field of eight youth in P-30. In Junior P-30, Skilly DeLoach had only one max but finished first only three seconds ahead of Caleb Finn. Caleb was the only Junior with more than one max. Henry Forster was first in Senior.
F1S was another of Friday's marquee events. Despite their typically high climbs in 10 seconds, only two out of the field of ten maxed out. Harry Grogan showed his mastery of the event by edging out Phil Calvert on the second flyoff round.
1/2A Gas also had ten Adult fliers, plus two youth. Only three Adults maxed out, and Brad Bane took first over Ronnie Thompson by nearly two minutes total. Caleb Finn won Junior and Henry Forster won Senior.
National Free Flight Society (NFFS) Classic Towline Glider is a throwback event for low-tech, straight-tow gliders that don't bunt. New whiz-kid Daniel Guo took first over all ages with a max-out and 540 seconds. Second place flier Jan Langelius was more than a minute and a half behind at 439 seconds.
"This has been an amazing Nats. Great weather, some amazing flying, a few national records set and most importantly…spending time with old friends and making some new friends." –Dave Lindley, NFFS President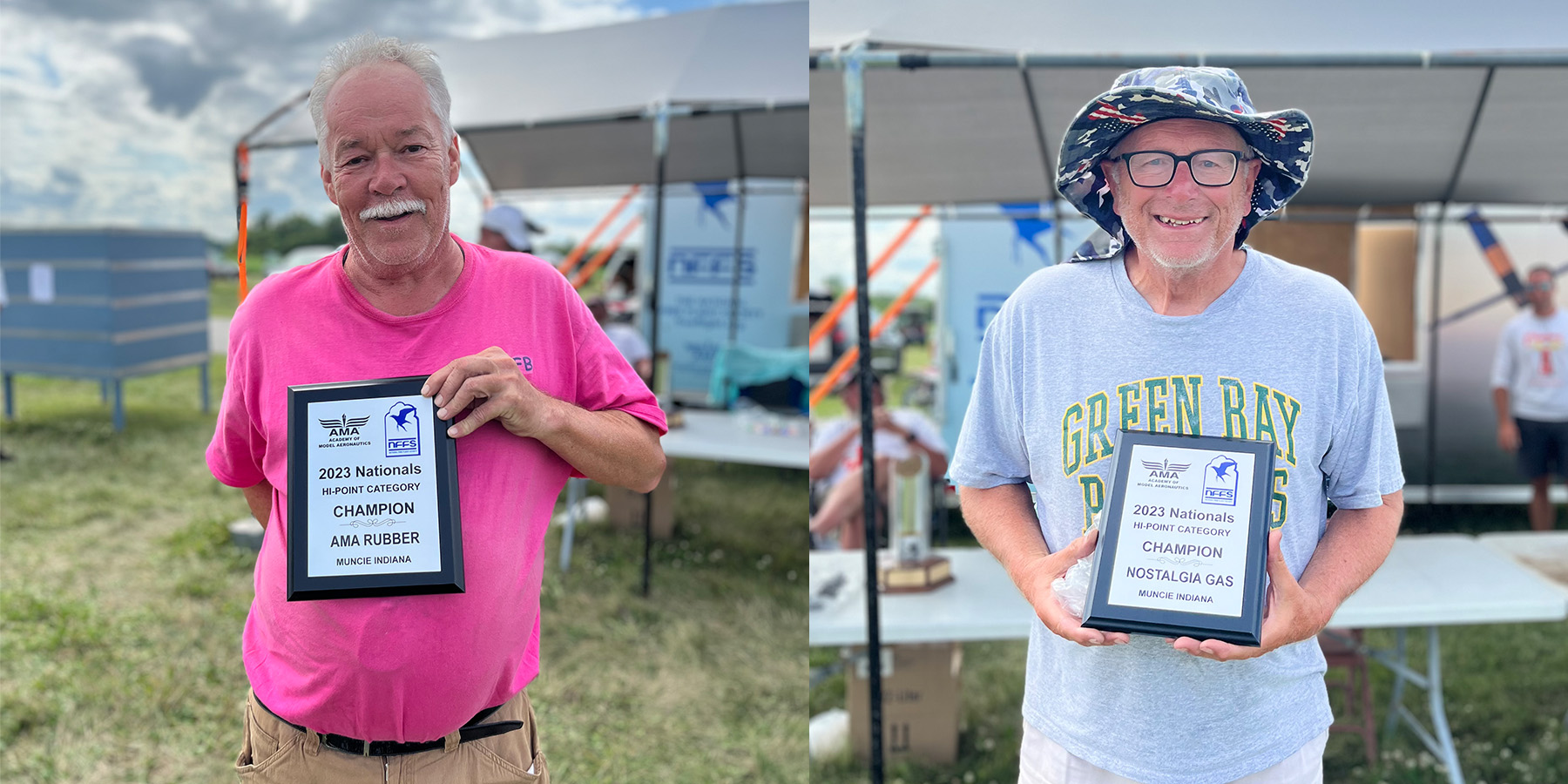 Over in Flying Aces Club (FAC), Pat Murray was first in Modern Civil Scale with three two-minute maxes. In the ever-popular Jet Catapult Scale, Steve Wrigley finished first over the field of about ten. In Peanut Scale, George Bredehoft and Pat Murray both maxed their flights and tied in scale scores, so a coin flip settled the tie in favor of George. Pat won FAC Rubber Scale easily when his magnificent Yak 2 twin did a best flight of over 90 seconds.
Other event winners on Friday: 1/4A Nostalgia Gas, Denny Dock; Early 1/2A Nostalgia Gas, Bob Hanford; ABC E-Nostalgia, Bob Sowder; Pee Wee 30, Bill Kuhl; OT Rubber Cabin, Chuck Powell; and Hi-Start Glider, Chuck Powell.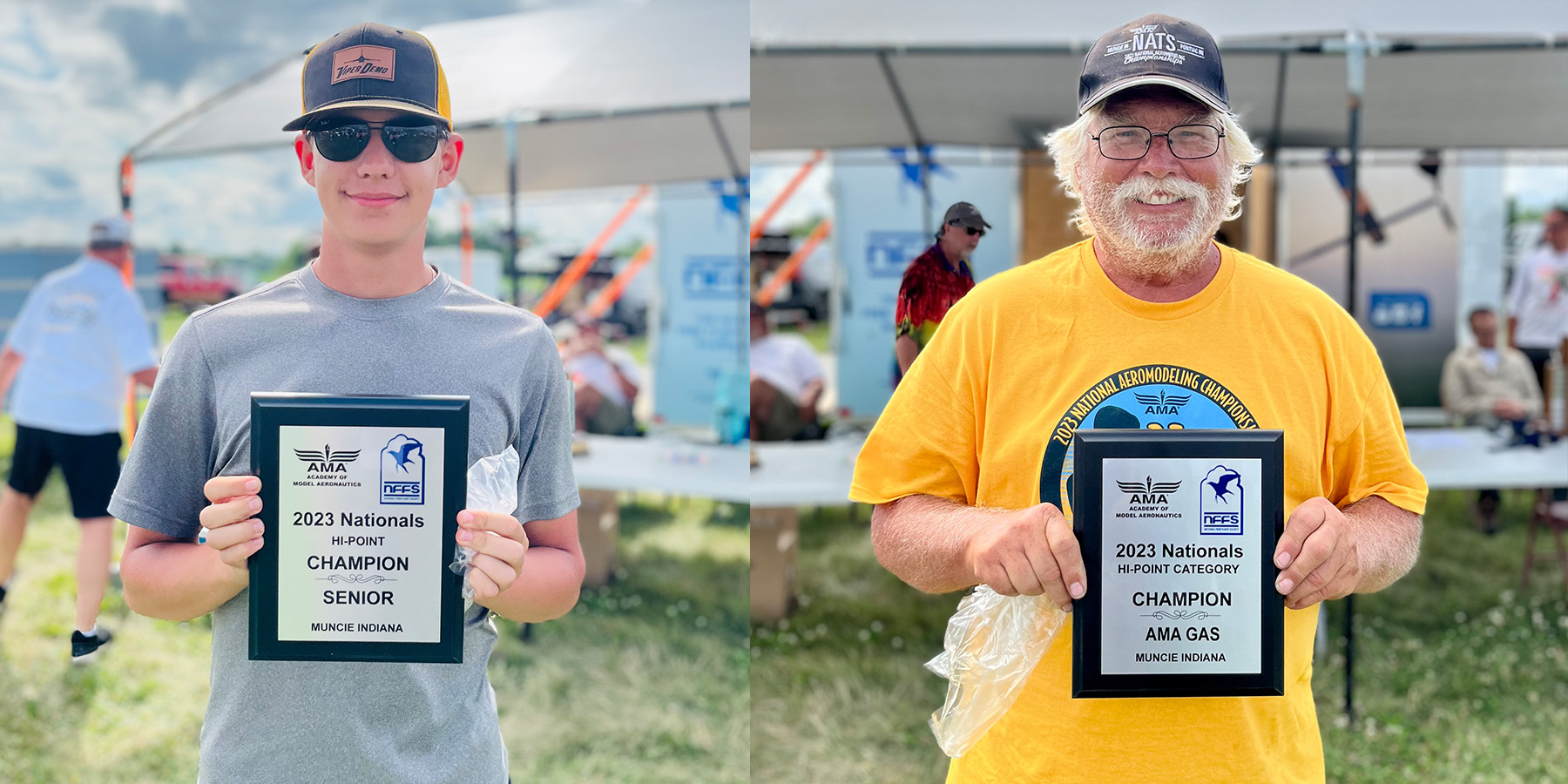 Category Champions for the week: AMA Electric, Phil Calvert; AMA Gas, Ronnie Thompson; NFFS Rubber, Chuck Powell; AMA Rubber, Dan Berry; Nostalgia Gas, Denny Dock; AMA Glider, Tim Batiuk; Junior Champion, Daniel Guo; and Senior Champion, Henry Forster.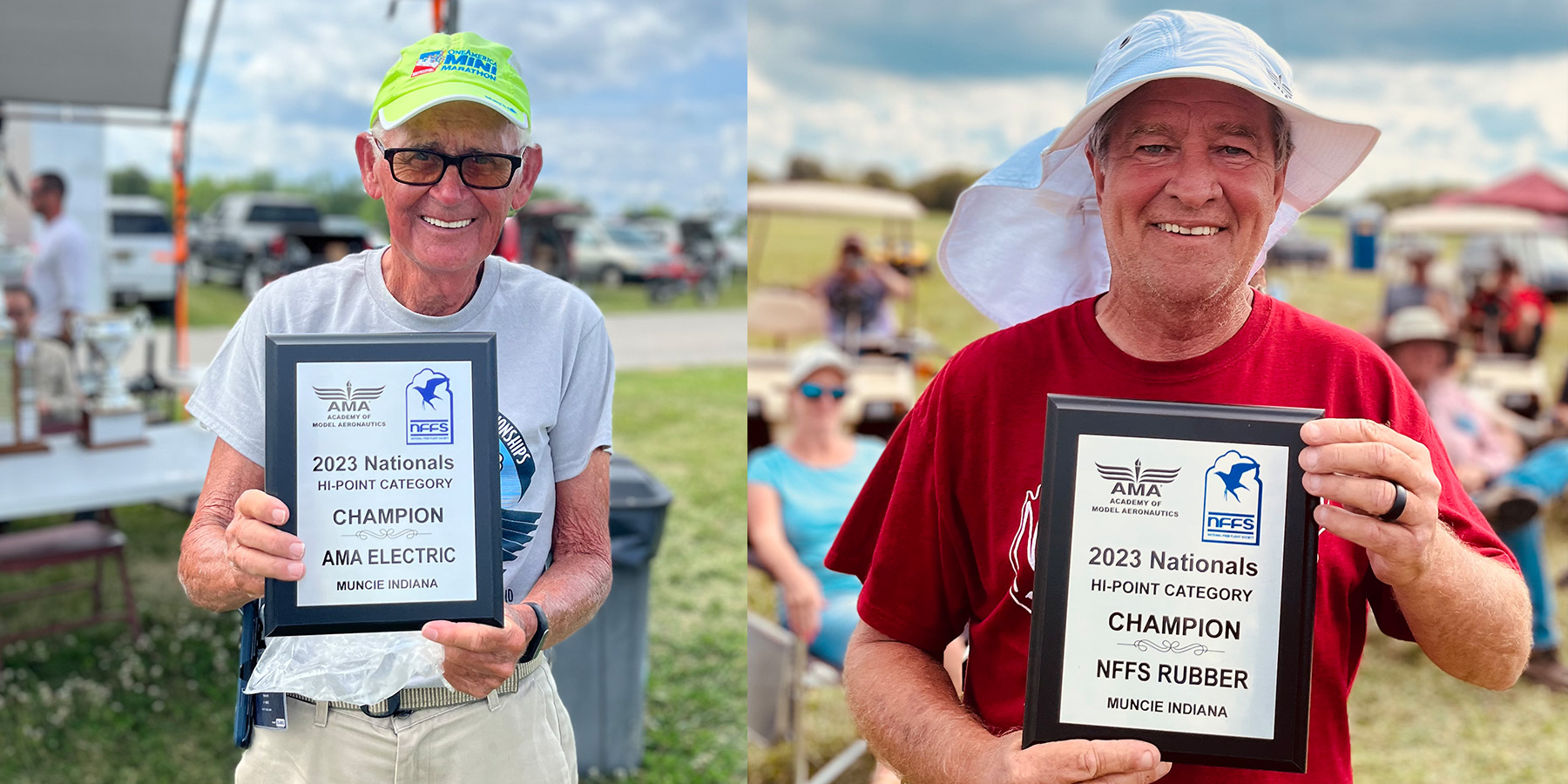 Thanks to all who worked so hard to bring us another fantastic FF Nats: Greg Simon, Dave Lindley, Lisa Pacelli, Patti Lorbiecki, Julie Parker, Bob Hanford, Pat Murray, George Bredehoft, and all the daily event directors and other volunteers.
See you next year!