By Dick Perry
Thursday was the day for all of the unofficial Control Line (CL) Navy Carrier events. As late as Tuesday evening, the forecast was predicting thunderstorms all day long on Thursday, so we had some concerns that the events might be adversely impacted. Things changed overnight, and the day dawned clear and calm with no rain forecast for the entire day. It ended up being a truly great day for flying.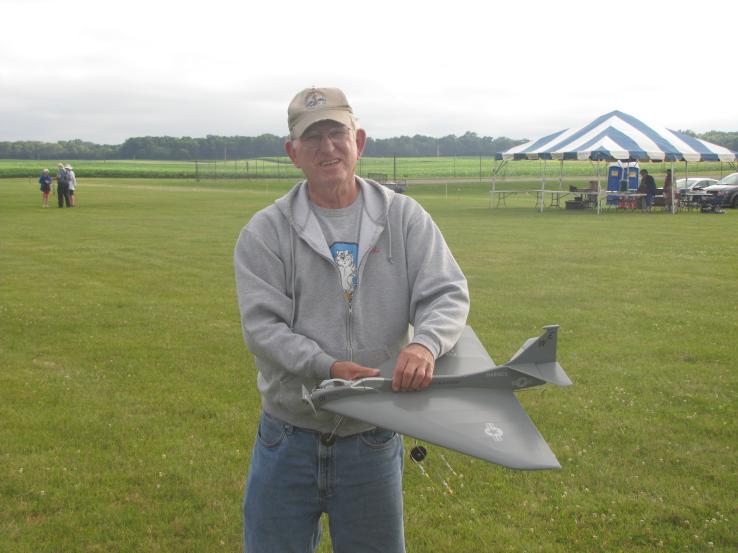 The .15 and Skyray events were lightly contested this year, but Nostalgia saw some really close competition. In the .15 event, Paul Smith won the Expert class using a Brodak Junior Lightning Streak with a score of 199.9 points. The Sportsman class was won by Bob Heywood by swapping an OPA 2.5 SLA (.15 cu.in.) engine for the Supertigre C35 engine on his Nostalgia Profile A4P model. His score was 175.5.
In Skyray, Pete Mazur flew amazingly consistent flights in nearly calm air for scores of 242.0 and 242.1, which took the win.
The Nostalgia fliers brought out a variety of models that even included one MO-1, though it isn't the MO-1 we normally see so prominently in the modern Navy Carrier event. Ron Duly flew a replica of the first MO-1 to fly in Carrier in the 1960s. It was a small, 28-inch wingspan MO-1 designed by Don Gerber for Class I. Though Ron missed both landings, his model was a joy to watch for those of us who have been going around in Carrier circles for a long time. He placed second with 465.92 points.
The winner of Class I was Paul Smith, flying a model of the prototype Grumman Guardian. His first flight in Class I earned him 514.17 points. Paul's other challenger was Mike Hatfield. Unfortunately, his Marvin Martinez-designed AD Skyraider snagged a line in the grass on takeoff and was damaged to the point that it could not compete further. It should be repairable.
In the Class II event, Mike Hatfield flew a Roland Baltes-designed model of the Japanese Myrt with a vintage HB .61 engine to a win with a score of 512.13.
The Nostalgia Profile event saw some great competition with Mike Hatfield taking an early lead with his Sterling P-51 Mustang. His complete flight scored 390.95 points. Challenges from three other fliers threatened to dethrone him throughout the morning! Mike's second flight later in the morning would have increased his score by six points—sufficient to have stood off two of those challengers—but a missed landing made the effort moot.
Paul Smith flew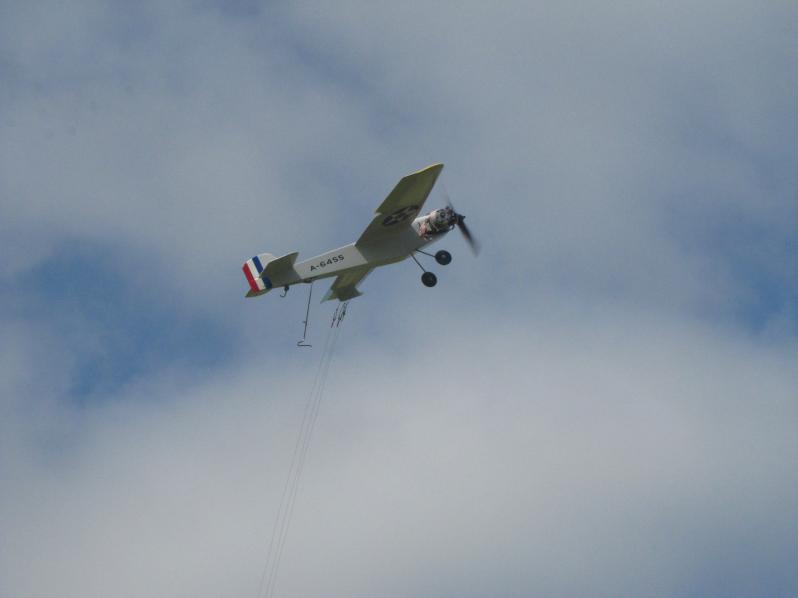 his vintage Devastator design to a very respectable flight score that would have moved him into first place, but he missed five landing approaches and had to settle for second position. His second flight would have bested Mike's score by a tenth of a point, but his landing approach was unsuccessful with the aircraft landing in the "water." His final score was 369.77.
Bob Heywood flew Dick Perry's A4P design with a Supertigre C35 engine which is a delight to watch, and Bob reports that it is equally fun to fly! Bob's first flight would have put him in first place with a good low speed and landing, but engine failure put him in the water. His second attempt had a rich high speed, resulting in a loss of over 5 mph from his first flight. The solid low speed and perfect landing moved him ahead of Paul Smith by 10 points, but he was short of first place by 12 points. His final score was 378.79.
The other contestant to fly a complete flight was Bernard Suhamski with a GS Bearcat. He recorded the second fastest high speed in Nostalgia Profile, and a low speed that made him a contender for third place; however, he missed three landing approaches and ended with a score of 359.22.
The Nats scores in Nostalgia Profile Carrier will move those fliers into four of the top five scores in the country so far this year.