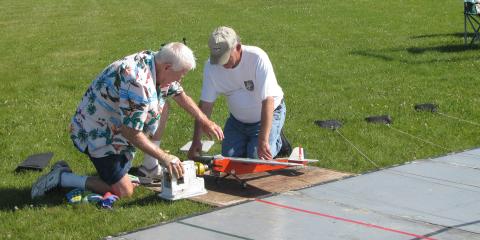 By Dick Perry
Tuesday started out quite nicely, with a light breeze blowing right down the deck. It made takeoffs quite easy, and it was not too challenging for slow flight. Pete Mazur and Melvin Schuette both logged flights early in the morning. Pete took the lead in the internal combustion event, flying a well-proven Grumman Guardian. Melvin grabbed the lead in the Electric event with a new and very nice looking Japanese Zero.  The Zero shows good potential and is very stable in both high speed and slow flight, but with only three flights so far, its ultimate potential is yet to be realized.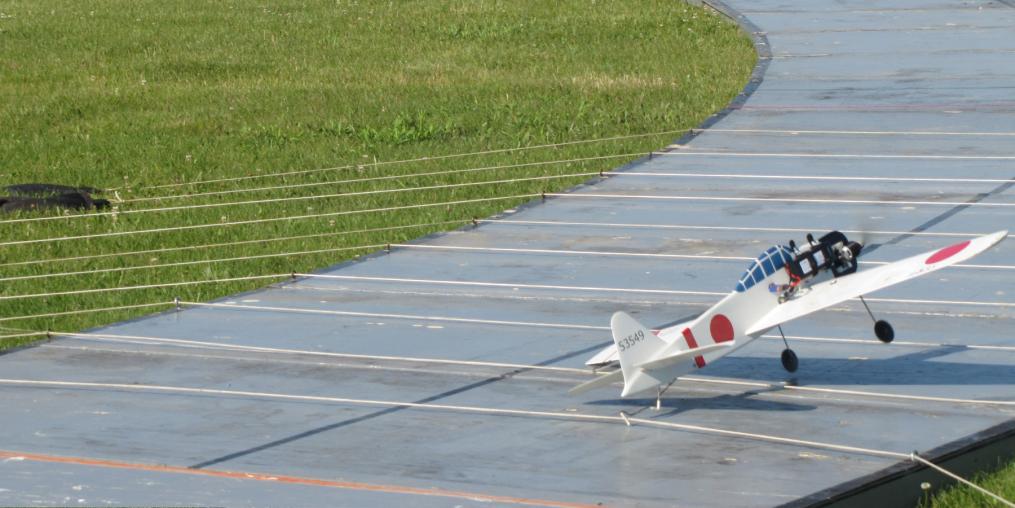 Pete soon posted a score that would place him in first place in Electric Profile, and he held on to first place in both events for the rest of the day. He holds a commanding lead in the competition for the Eugene Ely Award as the outstanding overall CL Navy Carrier competitor at the Nats.
Paul Smith flew his MO-1 into second place with a complete flight and a great landing on the first attempt. His second flight improved his score by a few points.
Meanwhile, Melvin encountered some engine issues in the internal combustion event, resulting in two incomplete flights. His third flight had the engine running as it should, but the wind was starting to become challenging. Wind and turbulence limited low speed performance and added its own special challenges for landing. After two unsuccessful approaches, Melvin managed an arrested landing, and his score moved him into second place.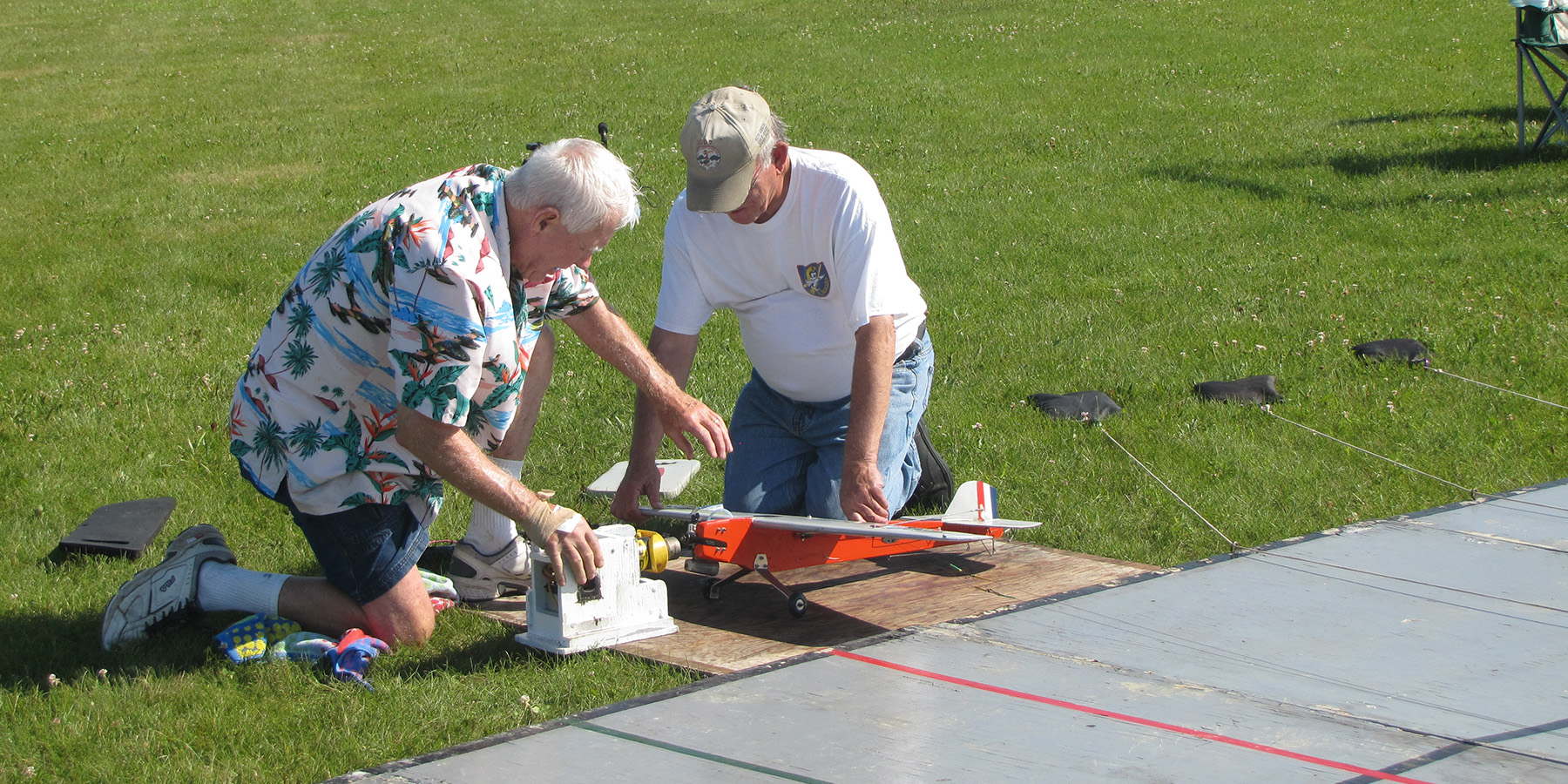 The wind continued to pick up, reaching gusts of 24 mph officially. At this point, those with flights remaining were questioning whether they would fly. Dick Perry decided to give it a go in Electric, but a jammed control resulted in a loop on takeoff, and the others decided to join him in sitting out the rest of the day.
The Sportsman Profile event, sponsored by the Navy Carrier Society, had three entries this year. Mike Hatfield entered a Supermarine Seafire, a design by Erik Connley. Bernard Suhamski flew his GS Bearcat, and Bob Heywood entered his A-4P Skyhawk model, a design from the early 1970s which he primarily flies in the Nostalgia event.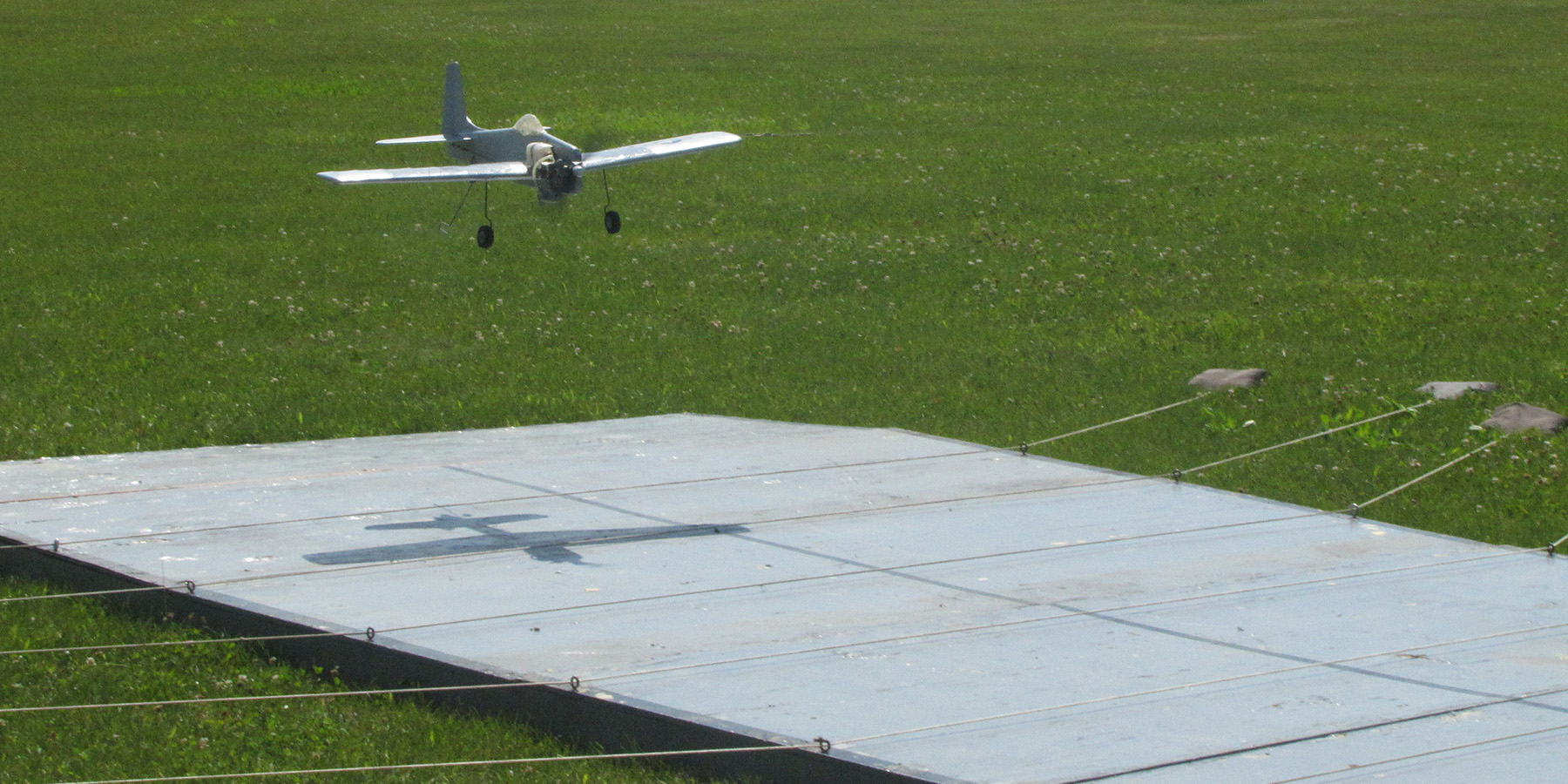 Mike was first up with his Seafire and managed a complete flight before the winds started to get too strong and gusty. His second flight, as conditions worsened, ended early when he touched the ground. Bernard had difficulties with the increasing wind, and his landing, after a couple of missed approaches, was slightly long and resulted in the model going off the end of the deck. No damage, but no landing points, and a second-place finish. Bob Heywood decided to forego competition in Sportsman and preserve his airplane for the Nostalgia flying on Thursday.