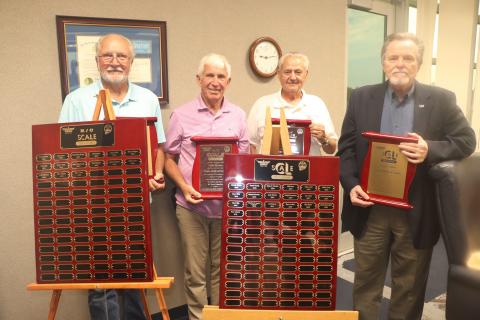 By Rachelle Haughn
Strong wind gusts prevented flying on Friday. After testing the air, the RC Scale Nats were called for the day. Friday evening was the National Association of Scale Aeromodelers banquet and two pilots were inducted into the RC Scale Hall of Fame.
Combined CL and RC Scale Hall of Fame members who were formally inducted (L-R): Dale Arvin (RC), Mike Barbee (RC), Pete Klepsic (CL), and Steve Ashby (CL). Photo by Fred Cronenwett.
Mark Trautman and his foamie.
Art Pesch.
Jack Buckley with his 36% Fairchild 24 and Tim Dickey with his 25% 1943 PT-23.