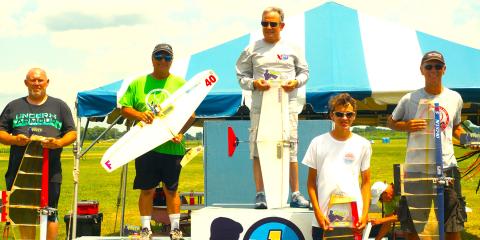 By Charlie Johnson
After a short pilot's meeting, the first F2d Fast Combat match started right on time. Arlene Mears was taking the day off and there was a panel of new judges on the scene. There was beautiful weather too, making another perfect day for Combat.
This event is very similar to standard F2d, in that the same engine and models are used but each contestant is limited to just one model per match. Pitting isn't as critical since there's only a single model, so many contestants start their own engine. The big difference between F2d and Fast F2d is that the goal is to cut the string leader. Cutting the string in this event, referred to as a "kill," gives the pilot an instant win. In F2d, it would give you many minutes of evasive flying and a severe headache.
Another question to be answered was whether all foam models would have an advantage over conventional F2ds because of the "foam kill." Rather than cutting the streamer with the propeller, the string leader cuts into the soft foam leading edge (LE) right to the spar where it breaks. In effect, the whole LE is a cutting tool rather than a six-inch propeller. Chris Gay and Pete Athans both used foam models, they came in first and second, but Chris mentioned that he only got one foam kill. The string used for this event was lighter than what was used in F2d.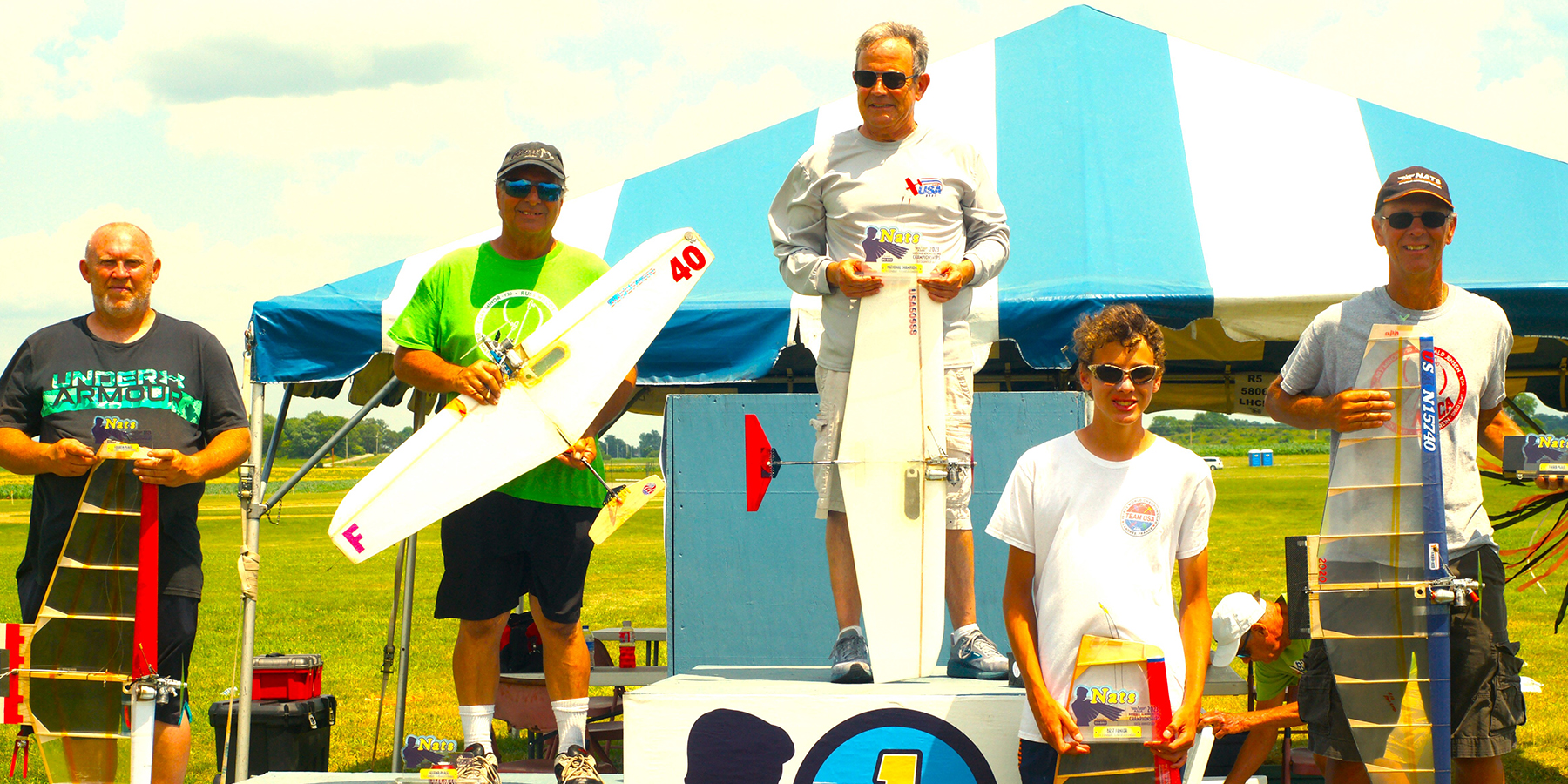 It was expected that the pace of this event would be faster, thanks to the kills and mid-airs (no spare models) ending matches early. The matches are five minutes long, but there's no long countdown as only 15 seconds are added to the five-minute clock. The pace is quicker, but it still takes time to move fliers and equipment into the circles. Perhaps the timesaving is greatest toward the end of the contest when only a single model and set of lines need to be prepared.
Anyway, the 22 entrants moved through eliminations efficiently and the final match was flown early in the afternoon. Plenty of time to test-fly models for Speed Limit on Thursday. The weather forecast looks a lot more promising than earlier. Chris Gay and Pete Athans have the last word: "Foam rules."