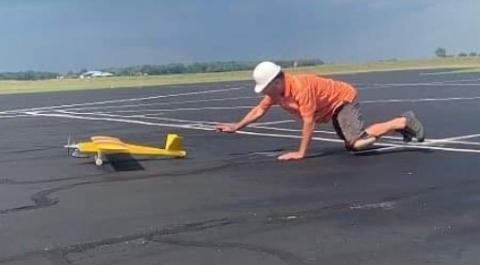 By Dan Kane
The 2022 US Pylon Nationals is about to start. I have been in Muncie for the past 14 days working the World Championships (WC) and I am ready to get some flying in for myself. 
Sunday, July 17, we have AMA 424 scheduled for competition. The weather looks a little problematic. Stay tuned for info regarding what we were able to accomplish.0 Model processing for AMA events 422 and EF-1 will be handled by Dean Stone and Ray Brown. 426 processing is being handled by Terry Frazer. Contest Director Mike Condon runs a tight ship and he and his crew set the bar during the WC and I am very confident that this will carry over into the Nats.
Tom Melshimer showed off his new lighting system and the plan is to use it during the Nats as well. Tom designed and built the new system with some major upgrades from past systems. It, too, is working extremely well. 
Matrix duties are once again being managed by Chuck Andraka. It is always great to see all of the competitors arriving on-site and prepping their models for competition. We have competitors from across the US. 
COVID put a wrinkle into our plans the last couple years, but it is refreshing to see some familiar faces taking the time to make the trip to Muncie. Competitors who arrived early took some time to prepare their models. Here are some pictures from Saturday, July 16, testing and tuning sessions. 
Ken Hopson from Texas preparing to do some test flights. This will be Ken's first Q-40 contest and I am personally looking forward to see how he does.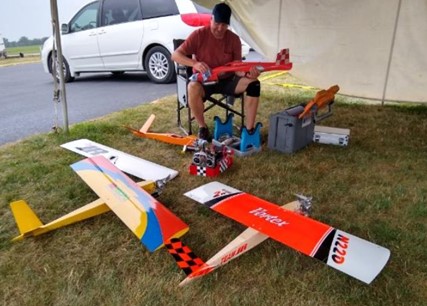 Below we have team "Skidmarks," two great individuals working hard and their hard work is paying off. On the left is Brian Osman and the right is Jordan Peace. Brian, Jordan, and Ken are all carryover competitors from the time when we ran Club 40 events here at the Nats. This is a testament of how sport Pylon Racing allows competitors an avenue to grow and prepare for other events.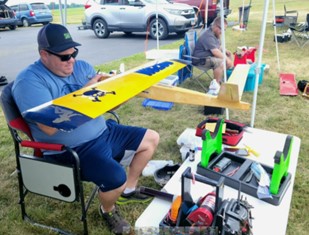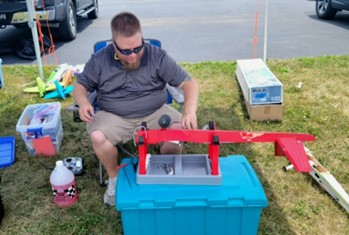 The next group of photos is from our good friends from Canada. It is great to see them back in Muncie and racing Pylon again. They are a great group of guys and even better Pylon racers. If you get the chance, make sure to give them a "Good Day, Ay".
Below we have David "Dave" Ford with Cory Paine. Dave served as a jury member for the 2022 World Champs and now will turn his hat around and compete with us in our US racing events.
Cory and his father Rick have been involved with Pylon Racing for many years and it is great to see father and son teams competing, working together, and hanging out as they do. Truly excellent examples of getting family priorities right!
Here is a picture of Rick launching Dave's 424 model during practice.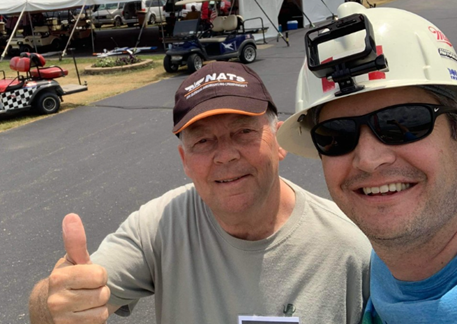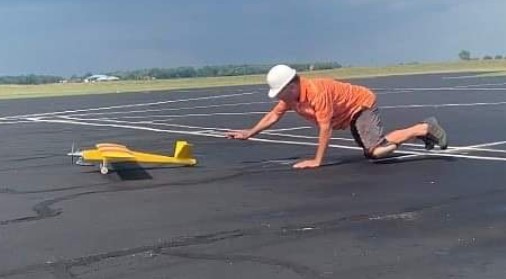 Here we have Danny Coe (L) and Salvador Barrios (R) waiting their turn on the flightline during practice. The model in the picture is from Italy and is raced by Danny Coe.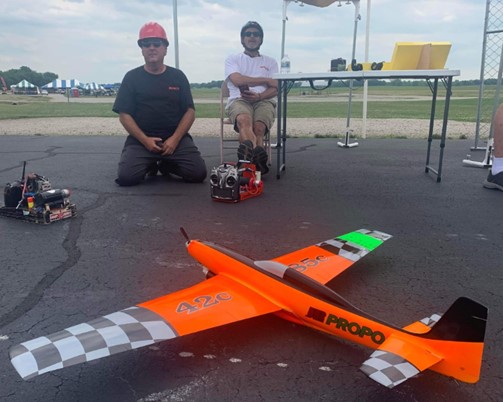 Tom Scott served as the 2022 Team Manager for the Pylon crew here in Muncie. He is seen here preparing his models for 426 and 422. Tom has some of the most beautiful models on-site.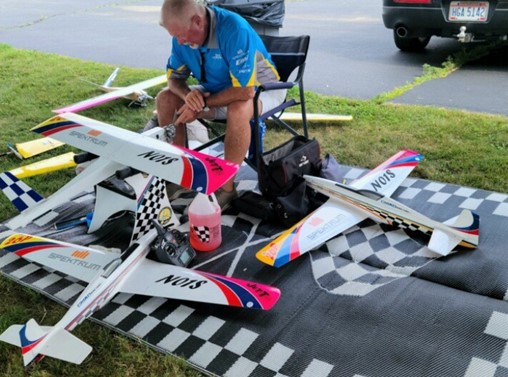 Marcus Blanchard from South Carolina made the annual pilgrimage to Muncie again this year. Marcus is a National Champ and will be tough to beat!