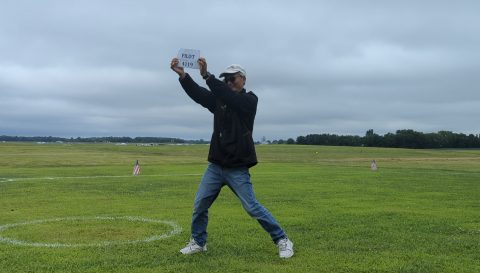 By Michael Parker
Day two of the RC Helicopter Nats started the day with 100% chance of rain. This was followed by a 100% chance of rain and later 100% chance of rain with a slight chance of more rain.
The wind was coming from north/northeast at 7 mph. The temperature was a complete difference from Monday at a whopping 70° F. We went from baking in the sun the day before to putting on coats and rain gear on Tuesday—with wind coming from the opposite direction.
The Scale competitors decided to scrap the day and continue their rounds Wednesday morning, while the rest of us sat back and waited for the weather to clear up.
The weather decided to tease us by letting up, before continuing to rain shortly after. We didn't get a chance to officially start the day until after 2 p.m.
We started with F3N with its third round of preliminary set maneuvers. This was followed by F3C's third round of preliminary back-to-back, with its fourth and final round of preliminary. Then we went straight into AMA schedule of back-to-back fourth and fifth rounds for Sportsman and Expert.
However, we all had a lot of fun and some of the callers continued their fun from Monday. They put on a show for the judges. As they called their pilot's number, they danced around. 
End of day 2 current results:
Sportsman: current score
Byrdsong, Brian
Normalized: 4,000.00
Lewandowski, Michael
Normalized: 3.034.94
Lucente, Daniel
Normalized: 2.774.13
Expert: current score
Meade Gordie 
normalized: 4,000.00
Parker, Michael
Normalized: 3,568.75
Rojas, Angel
Normalized: 3.416.26
FAI/F3C: current score
Maxwell, Nicholas
Normalized: 3,000.00
Sawamura, Yasuichi
Normalized: 974.21
Muraki, Yasunobu
Normalized: 827.91
Goza, Michael
Normalized: 811.10
Diamonte, Christopher
Normalized: 764.88
DiPeri, Timothy
Normalized: 747.96
Corlett, Samuel
Normalized: 713.57
Hiatt, Clifford
Normalized: 550.41
FAI/F3N: current score
Maxwell, Nicholas
Normalized: 1,000.00
Robertson, Jamie
Normalized: 869.76
Ciripompa, Cade
Normalized: 672.42
Jaffe, Alexander
Normalized: 613.16
Diamonte, Christopher
Normalized: 609.34