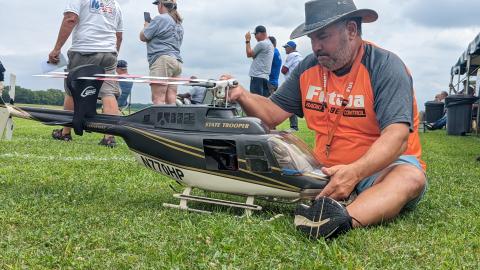 By Michael Parker
We started the day Wednesday with, yes, more rain! A low ceiling of fog blanketed the whole field, reducing viability to only a few hundred meters and covering every surface with a layer of water.
Scale was going to be flying first thing in the morning on Wednesday, but the mist prevented that from happening. So, they were going to wait until noon to fly their round.
The mist began to stop and a few F3C pilots started to practice their hovering maneuvers with the new schedule "F" Finals. But the ceiling was still too low for the full flights.
It took us until 10:30 before the ceiling climbed high enough and we started with F3N Set Maneuver Finals. Then we started the first semifinal round of F3C.
518 Scale completed its second round around noon, then it was back to F3C with its second semifinal round. The sun finally came out and next was F3N. All five competitors performed amazing freestyle rounds.
Once again, the callers know how to have fun, and continued their presentation competition while showing the pilot number to the judges. It's the little things that are the most fun.
Now we're cutting to the wire with F3C going back-to-back in its final two rounds. Yasuichi Sawamura and Nick Maxwell are battling for first, while Yasunobu Muraki and Michael Goza are battling for the third spot.
In F3N, we have Nick Maxwell and Jamie Robertson competing for first and there is a close battle for third as well between Cade Ciripompa, Christopher Diamonte, and Alexander Jaffe with a 100-point difference in the current score.
At the end of the day, we finished approximately 7:30 p.m. with everyone finishing their rounds. We had a lot of close finishes. Everyone had fun and dispute the rain, it was a great event—one we will all remember. 
Awards will be presented Thursday, August 11, and results from Wednesday's flights and overall scores will be presented as well.