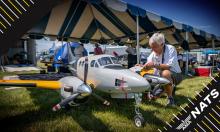 The 2020 National Aeromodeling Championships (Nats) are still scheduled to begin July 12. AMA is continuing to monitor the situation surrounding the COVID-19 pandemic and it's impact on our upcoming events. Our final decision on moving forward with the Nats will take place June 10. AMA Special Interest Groups (SIGs) are also making decisions for their individual schedules, and some are choosing to make earlier cancellations for their events The following message is from Mike Barbee, president of the National Association of Scale Aeromodelers:
NOTICE: THE 2020 AMA SCALE NATIONALS BOTH RC AND CL SCALE HAS BEEN CANCELLED.
The board members and officers of NASA have unanimously voted and decided to cancel the 2020 Scale R/C & C/L Nationals. This decision was made because of the risk of the Covid-19 virus and time and financial constraints brought on by the virus to competitors and spectators. We believe that this is both a logical and safe decision. We are however still planning on the NASA Scale Classic to be held September 10-13th at AMA. The qualification process for this event will NOT be in effect. Everyone is invited to come out and participate in this season end event. We will keep close watch on Government mandates and recommendations leading up to this time.
Thank you and stay safe and responsible.
Mike Barbee President NASA