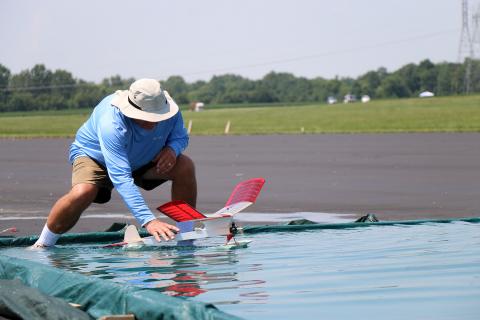 By Don DeLoach
2022 FF NATs preview
The Outdoor Free Flight Nationals (Nats) are back July 25-29 … for (can you believe it?) the 95th running.
Under the sponsorship and volunteer support of the National Free Flight Society (NFFS), we'll fly more than 70 official and unofficial events this week, plus several informal, ad-hoc events in the. The weather forecast looks very promising for the week, with only a couple of possible rain chances and high temperatures only in the low- to mid-80s.
This year's FF Event Director is Glenn "Doc" Schneider of Diablo, California. Glenn is the NFFS VP for the Western district and a seasoned Free Flighter with many years of experience, so this Nats should run very smoothly. He has assembled a large group of dedicated volunteers. NFFS director Lisa Pacelli will handle scorekeeping. Pat Murray and George Bredehoft will direct the Flying Aces Club (FAC) section on Wednesday, Thursday, and Friday. Without these volunteers, there would be no Nats. It is not too late to step forward and help … find Doc or any of the NFFS crew on the field!
Now, what to expect. Free Flight is extremely diverse in its spectrum of complexity. FAI events usually feature the most technically advanced models. AMA and NFFS events are considered medium-tech. FAC and SAM events are for simple, old-fashioned balsa and tissue models. FAC features the only scale events for FF. Some are judged statically for fidelity to full-scale, but most are not.
Most events are judged on pure duration—usually a total of three flights plus flyoffs to break ties. Competitors aim for a flight duration maximum ("max"), which is based on the wind conditions and the size of the field. For most events at the Muncie Nats, the standard max is 2 minutes. When a competitor attains three maxes in a row, he or she may proceed to attempt flyoff flights, which get progressively longer and more difficult to attain.
In FAI (F1x) events, the max is usually longer (3 or more minutes) and the number of regular flights preceding the flyoffs is either five or seven. Also, FAI competition is flown in 1-hour rounds whereas all other FF events are not. The small glider events must launch from the "pen," an approximately 50 x 50-foot square. The exciting FAC mass launch events feature 10 or more models launching together … last one down is the winner!
For the next four days, Rick Pangell will be shouldering FF NatsNews reporting/photography duties. Say "hi" to Rick on the field, pose for pictures, and make sure to relay to him any newsworthy happenings so he may include them in NatsNews. Thermals and GOOD LUCK to all competitors!
"On behalf of the NFFS Board, we would like to welcome all contestants to the 2022 Outdoor Free Flight National Championship. Our time to gather, fly, tell stories, compete and, most of all, have FUN!
"Let's hope for good weather all week."
--David Lindley
NFFS President
Here are the defending Nats champs and their winning scores from 2021:
F1A                         Parker, Jim, 1647
AB Classic Gas    Berry, Dan, 1169
D Gas                     Menanno, Guy, 1200
Electric B               Malkhasyan, Taron, 1794
Moffett                   Vanderbeek, Bill, 750
Payload                 Fedor, Mike, 334
½A Nos Gas         Erridge, Roger, 670
Beat the Vart         Sevak Malkhasyan, 50, 73, 64, 86
F1C                        Parker, Faust, 855
F1H  (Junior)        Reuter, Wes, 122
F1H  (Sr-Adult)     Fedor, Mike, 600
F1Q                        Richardson, Mike, 1260
C Gas                     Menanno, Guy, 1050
ROW Gas              Berry, Dan, 282
Mulvihill (J)            Finn, Caleb, 439
Mulvihill (S)           Mattson, Hailey, 217
Mulvihill (A)           Brown, Gerald, 840
A Nos Gas             Menanno, Neal, 1200
E-20                       Buddenbohm, Stan, 451
Jetex                      Matsuno, Chris, 240
1-Design Combo Erridge, Roger, 335
OT Rub. Cabin     Sneed, Ed, 528
Hydrostar ROW    Berry, Dan, 480
OT Catatapult       Dalecki, George, 353
F1B                         Fitch, Jeremy, 1709
F1J                         Lorbiecki, John, 881
1/2A Classic Gas Berry, Daniel, 993
E-36 (J)                  Menanno, Clay, 600
E-36 (S/A)             Malkhasyan, Taron, 3360
B Gas                     Menanno, Guy, 1350
Cargo                     Fedor, Mike, 720.9
B Nostalgia Gas   Smith, Gene, 1296
1-Design Dynamoe Vanderbeek, Bill, 676
OT ABC Cabin     Oliver, John, 193
Small Nos Rub.    Kirda, Michael, 1020
Cat. Glider (A)      Ferrario, Rocco, 635
Cat. Glider (J)       DeLoach, Skilly, 244
Cat. Glider (S)      Reuter, William, 189
FAC Jimmy Allen  Farrell, Wally, 339
FAC Dime Scale  Farrell, Wally, 352
FAC OT Stick       McBride, Duncan, 360+321
FAC Hi-Start         Niedzielski, Dave, 517
FAC Low W. Tr.    DeLoach, Don, 1st
Dawn Unlimited   Finn, Joshua, 464
F1G  (J)                 Reuter, Wes         
F1G (S/A)              Joyner, Louis, 600
F1P                         Fedor, Mike, 1040
A Gas                     Parker, Jim, 1,350
Electric A               Donnelly, Skylar (S), 1678
C Nostalgia Gas   Schneider, Glenn, 835
OT ABC Pylon      Romak, Bud, 360
Large Nos Rub.    Romak, Bud, 1,260
1/2 A E-Nostalgia Finn, Joshua, 593
1-Design 1/2A      Lapraik, Scott, 360
HLG  (A)                Malkhasyan, Taron, 535
HLG  (J)                 DeLoach, Skilly, 200
HLG  (S)                 Donnelly, Skylar, 93
FAC Embryo         DeLoach, Don, 369+210
FAC Golden Age  Farrell, Wally, 360
FAC O.T. Fuse.    Bredehoft, George...360+289
FAC Simple Sc.    Farrell, Wally, 361
FAC Greve/Thom Farrell, Wally, 1st
FAC WWII             Farrell, Wally, 1st
1/2A Gas               Menanno, Neal, 360
CD Classic Gas    Thompson, Ronnie, 600
P-30 (J)                  Finn, Caleb, 348
P-30 (S)                 Mattson, Hailey, 195
P-30 (A)                 DeLoach, Don, 510
1/4A Nos. Gas      Erridge, Roger, 349
1/2A Nos Gas       Hanford, Bob, 285
OT Rubber Stick McCall, Dan, 263
Classic Towline    Powell, Chuck, 282
ABC E-Nostalgia Jennings, Jim, 578
F1S                         Malkhasyan, Taron, 866
Pee Wee 30          Kacmarsky, Rich, 591
FAC Modern Civil Murray, Pat, 1st
FAC Rubber Sc.   Farrell, Wally, 166.25
FAC Peanut Sc.   Farrell, Wally, 151.5
FAC Jet Catapult Dalecki, George, 157
FAC Simp. Pwr.    Schenkel, Clete, 137
FAC WWI              Farrell, Wally, 1st