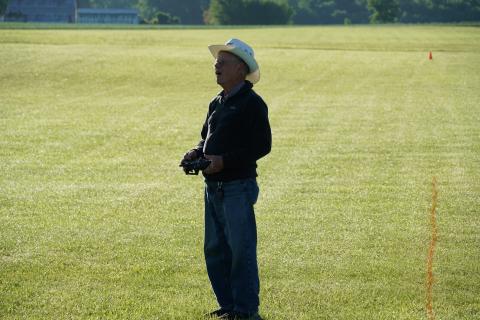 By William Drumm III
The first two days of RC Combat went by fast. We were able to get all of the classes finished early and all that was left to fly was E-1000.
E-1000 is a class still being tested out by the RCCA. A proposal has been submitted to add it to the AMA Rulebook as the current rules are working well. E-1000 is an all-electric class with a maximum battery size of a three-cell 1,000 mAh battery. The entire design is left open because the battery size limits the performance of the plane.
There were varying designs being flown today. Heath Bartel's HB1 is well designed and utilizes a 3D-printed fuselage. His original design used a foam board wing and now he is experimenting more with solid foam wings.
David Smithgall utilized a foam glider wing on his design, and it flew pretty well. It's definitely an option for those who don't have access to a hotwire to cut out their own cores. Each design has its own pros and cons. The class is still developing as pilots are trying out new designs and getting closer to the "perfect" airframe.
Young Max Fagen made his Combat debut Tuesday. As a group, we were able to help him out and get him up in the air. His enthusiasm is refreshing and I'm sure we will see him out again. We also had Bob Loescher join us today after his mishap on Sunday. Glad to see you up in the air Bob.
Normally, we would have used the red forestry tape with the dew still on the ground. With the slower speeds and lighter weight of the planes, crepe paper is the better choice as long as the streamers are kept off the ground.
There were plenty of midairs and dirt naps to go around. With the majority of the designs using foam board, foam-safe CA and hot glue were being used to mend the battle damage.
With longer breaks during which to repair, we ended up the day just a little after noon. After all 10 rounds were in the books, it was a close battle for the top spot. Less than 200 points separated first through third. David Smithgall wound up in third with 2,044. Mike LaPacz was in second with 2,192. With only 28 more points, 7 feet of streamer worth, was Heath Bartel with 2,220.
Well, that's a wrap for RC Combat this year. See you next year and cutcha later!!!
Bob Loescher Joins The Fight Tuesday.
E-1000 Group - Bob Loescher, Tim Gillow, Mike LaPacz, Max Fagen, Heath Bartel, David Smithgall.
David Smithgall Going In For The Kill With His Foam Glider Wing Plane.
Heath Bartel On The Hunt.
Bob Loescher Following Mike LaPacz In For The Cut.
Brrr… This Is A First.
David Smithgall About To Score.
Keeping It Tight In E-1000.
Heath Bartel Lining Another One Up.
David Smithgall All Lined Up For The Kill.
Out Of The Way Bob.
E-1000 Champion Heath Bartel.
And That's A Wrap For RC Combat.