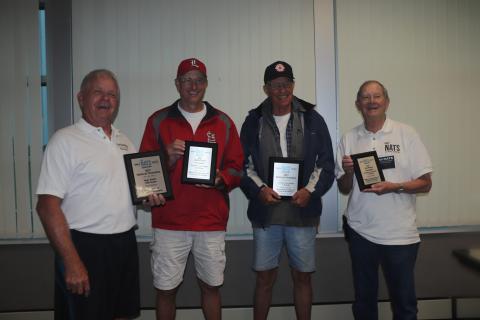 By Fred Cronenwett
As predicted, the storms came in Friday and we were presented with very windy conditions and rain headed our way. It was decided by all of the pilots to call the CL Scale Nats after the two rounds that were flown the day before.
In ideal conditions, you would fly all four because that gives pilots rounds three and four to improve their scores or to get something repaired after rounds one and two. Because the contest was called after two rounds, the tabulation had to be redone due to the fact that the scoring is different when two rounds are flown as compared with four rounds.
Thankfully, we had not unpacked anything, so we moved to the AMA Headquarters building to do the award ceremony and pilot raffle due to the weather conditions.
The NASA banquet took place later Friday evening with RC and CL pilots in attendance. Steve Ashby, Ron Sears, Chris Brownhill, and Pete Klepsic were inducted into the CL Scale Hall of Fame. The late Ron Sears and Chris Brownhill were posthumously inducted, but nobody was in attendance to receive their awards. Officially, Ron Sears and Steve Ashby were inducted in 2020 but did not receive their awards until 2021. Chris Brownhill and Pete Klepsic were the 2021 inductees.
Here are the final results:
Grand Champion: Burt Brokaw
Authentic Scale
1. Ed Mason
Sport Scale
1. Allen Goff
2. Ed Mason
Fun Scale
1. Joe Gilbert
2. Mike McHenry
3. Burt Brokaw
Team Scale
1. Goff/McHenry
2. Gilbert/Mason
Profile Scale
1. Burt Brokaw
2. Jeff Jensen
1/2A Scale
1. Burt Brokaw
2. Mike McHenry
3. Richard Schneider
Allen Goff with 1/2A High Static, Mike McHenry 1/2A 2nd place, Burt Brokaw 1/2A 1st place, and Richard Schneider 3rd place.
Second place Profile Scale winner Jeff Jensen.
Fun Scale winner Joe Gilbert.
Fun Scale winners (L-R): Joe Gilbert, 1st; Mike McHenry, 2nd; and Burt Brokaw, 3rd.
Christopher DeGroff was awarded the Best Junior award.
Team Scale 2nd place, Ed Mason and Joe Gilbert.
The Team Scale winners. Finishing in 2nd place was Ed Mason / Joe Gilbert and 1st place was Allen Goff and Mike McHenry.
Ed Mason with his 1st place Trophy for Authentic Scale and High Static. There was only entry this year in Authentic Scale.
Burt Brokaw was awarded the Grand Champion award.
Combined CL and RC Scale Hall of Fame that were formally inducted (L-R): Dale Arvin (RC), Mike Barbee (RC), Pete Klepsic (CL), and Steve Ashby (CL).

Steve Ashby with his 2020 CL Scale Hall of Fame award.
Pete Klepsic with his 2021 CL Scale Hall of Fame award.
Past members that were inducted into CL/RC Hall of Fame that were present joined in for a group photo: Ed Mason (CL), Allen Goff (CL), Dale Arvin (RC), Mike Barbee (RC), Pete Klepsic (CL), Fred Cronenwett (CL), Steve Ashby (CL), and Richard Schneider.
Ed Mason, Joe Gilbert,  Allen Goff, Mike McHenry, and Burt Brokaw with the Grand Champion T-shirts that were awarded.