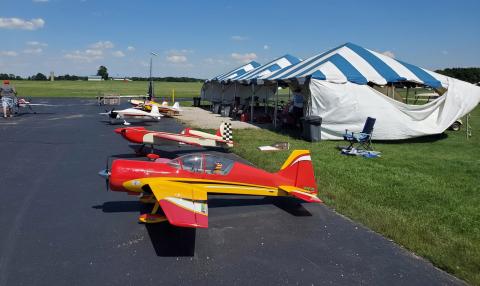 By Rich Whitlow
This first day of competition turned out to be a beautiful day to be flying! The winds were light, the temperature was moderate, and the sun was shining. There was no complaining about the weather on Wednesday, June 16!
The day started with a short pilots' meeting. Everyone was informed, prepared, and ready to go.
The first round was a Known Round and was flown to perfection. David Moser was our first pilot in the air, and he mentioned that he wouldn't have had it any other way!
After two Known Rounds, the Unknown Round of the day was flown. This was single sequence round and was a quicker round, though I will say the nerves seemed to be a little tighter for this one!
After the Unknown Round, the last Known was flown and everything was finished up by late afternoon. But, for some, that was not enough flying. Some pilots continued to fly to well past 7 p.m. They just couldn't get enough.
After the flying was complete, the pilots retrieved their Unknowns for Thursday to study and prepare to get those done first thing in the morning.
All in all, it was a good day. We look forward to another one Thursday!
Special thanks to Dana Coe for contributing some of his pictures!
You can view scores at https://www.mini-iac.org/2021-US-Nats.