By Ryan Woebkenberg
F3K wrapped up Wednesday. Five more preliminary rounds were flown followed by a four-round flyoff for the top six finishers. The 14 rounds from yesterday and today were used to determine the contest winner.
A total of 20 pilots competed in the F3K Nats this year. That is down a bit from previous years (likely COVID related) when we typically have about 30 pilots enter. This year, we had four Juniors enter, and two of them made the flyoffs.  F3K 2020 was won by Jason Cole, with second going to Nathan Bartley, and third to Oleg Golovidov.
Conditions Wednesday were difficult for making perfect scores, and conditions in the flyoffs were particularly tough as they had longer flight tasks. Thermals were at times weak and moving fairly fast. That meant that if you rode in a thermal too far down wind, although you might make your task time, you were unable to fly back to where the glider needed to land for your score to count.
Attached is a picture of the flyoff scores (the one with 6 names on it) and a picture of the preliminary rounds scores of the 20 pilots.  I also added some more pictures from today to the google drive.
See scores from all 2020 Nats RC Soaring Events at GlideScore.com.
See all 2020 RC Soaring Nats coverage HERE.

Scores from the top 6 final flyoff.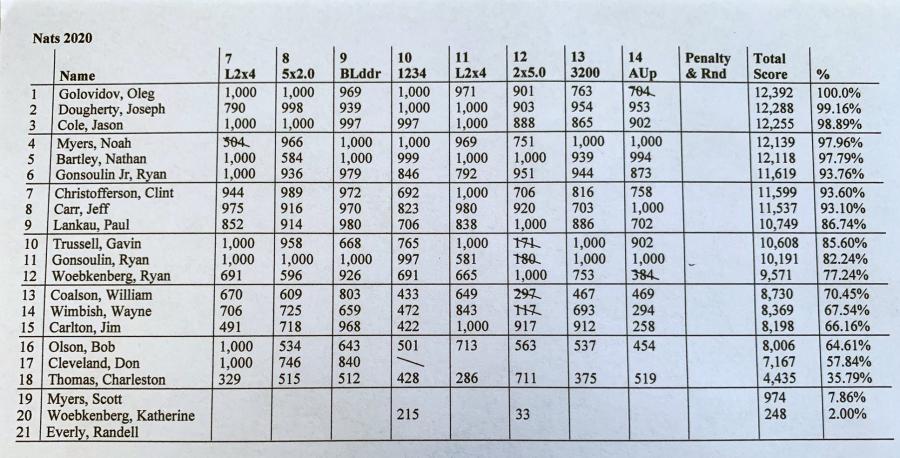 Preliminary scores.