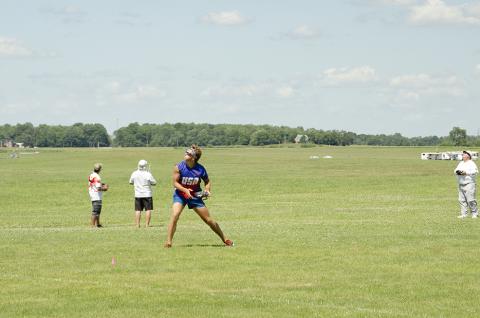 By Ryan Woebkenberg
Tuesday was day one for F3K (Hand Launch Soaring). Nineteen pilots were present and flying was conducing using three flight groups.
F3K is the FAI Soaring class for RC hand-launch gliders. The models have a maximum wingspan of 1.5 meters and are typically made mostly from carbon fiber. The gliders are thrown hand, typically by being spun around from a wingtip and release.
F3K has 12 different tasks, all of which are duration-based only—no scoring for spot landings, distance, speed, laps, etc. Tasks are typically (but not always) based on a 10-minute window and have multiple flight requirements. For example, one task it to make five flights in ascending order with a maximum time of 1 minute, 1:30, 2 minutes, 2:30, and 2 minutes all within a 10-minute window.
Nine rounds were flown. Conditions were, at times, fairly easy, but there were still some challenging moments. At times, thermals were abundant and easy to core and ride. At other times, the thermals were weak and disorganized making for a few rounds where pilots really struggled to make the task times.
See scores from all 2020 Nats RC Soaring Events at GlideScore.com.
See all 2020 RC Soaring Nats coverage HERE.