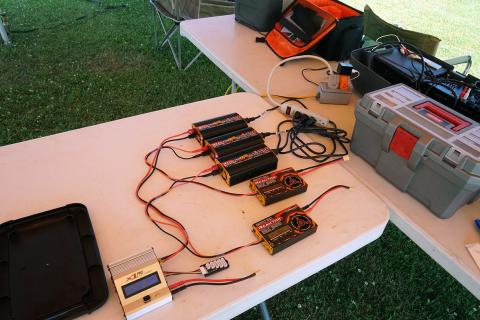 By William Drumm III
Well the first two days of RC Combat flew by. We were able to get all the classes finished early leaving only a demonstration event of E-1000. E-1000 is a class still being tested out by the Radio Control Combat Association (RCCA). The current rules we are basing this event off are working well, and a proposal has been submitted to get it into the AMA Rulebook. E-1000 is an all electric class with a maximum battery size of a 3-cell 1000 mAh battery. The entire design is left open as the battery size limits the performance of the plane.
There were varying designs being flown Sunday. A couple of delta wings saw action along with some other foamboard creations. Heath Bartel's HB1 is well designed and utilizes a 3D-printed fuselage. His original design used a foamboard wing, and now he is experimenting with foam wings. Will Drumm was flying a retrofitted Hat Trick Arrow with the biggest wingspan out of the planes that flew. Each build has its own pros and cons. The class is still developing as pilots are trying out new designs and getting closer to the "perfect" airframe.
We were slated to have another pilot join in on the action Sunday. Young Max Fagen was all set to fly in his first ever combat meet. Unfortunately, during his test flight, he crashed his only plane. He is a very inquisitive young man and was asking the other pilots all sorts of questions throughout the morning. I'm sure he learned a lot today. I hope to see his enthusiasm next year, if not sooner.
The ground was still covered in a heavy dew when we were ready to start. Normally, we would have used the red forestry tape. With the slower speeds and lighter weight of the planes, it was decided to try and use crepe paper. We did have the help of the Civil Air Patrol Cadets to throw the streamer up in the air while we launched. It ended up working out well. No one lost their streamer prior to start combat. Later on it became apparent that the right decision was made as Will Drumm's Arrow pulled David Smithgall's small plane around without breaking the crepe paper streamer.
There were lots of cuts being exchanged throughout the day and plenty of bang ups. With the majority of designs using foamboard, foam-safe CA and hot glue were used to mend battle damage.
After 10 rounds were completed, Tim Gillow took home third place with a score of 1,484. Heath Bartel came in second place with a significant thousand-point jump to 2,484. With another huge leap, to a score of 3,424, was Will Drumm in first place.
That's a wrap for RC Combat this year. See you next year and Cutcha Later!
Check out all 2020 RC Combat Nats coverage HERE.