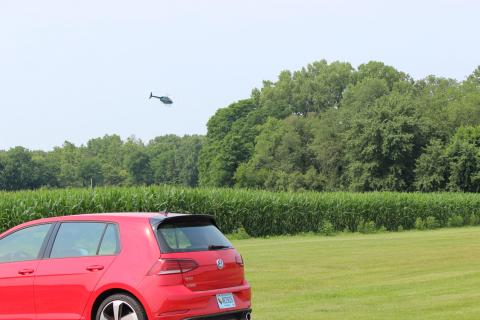 By Jim Quinn
After the long, 2-hour weather delay Wednesday, we all woke up to a sunny and clear morning for our second day of flying. It looked like a perfect morning. Little did anyone anticipate a new delay on day two.
A crop-dusting helicopter took over the sky at AMA, dusting all of the surrounding cornfields! As though our new ED didn't have enough to deal with on our first day with the weather, now there was a helicopter in our airspace. Jon handled it well and within the hour, we were back in the air.
We were all pleased with the speed with which our ED Jon Dieringer resolved this most unusual problem. Getting back in the air brought a lot of smiles around all three sites. Mike Murphy's smile on Site 4 tells it all.
Joe Winterrowd is our new Site 4 director. Like many of us, Joe started flying Control Line (CL) as a kid. By 1967, he was flying RC with a Scooter. Life stepped in with high school and RC was on the back burner.
He was back in 1976 flying a Protender with an OS .61. He was having a great time attending fun-flys and local flying.
Life came back again, this time bringing a family. So by 2002, Joe had a Senior Falcon, an Ugly Stik, and other fun models.
It wasn't until Joe retired in 2020 that Aerobatics took a stronghold on his flying. His new plane was a Vanquish, and more RC life stepped in with the Vanquish's exit. Now Joe is happily flying a Wind S Pro and loving it. When asked if he would prefer to be flying on Site 4 or being the director, Joe smiled and said he was happy to be helping his buddy, Jon, our ED. What 2022 will bring to Site 4 will have to wait a year.
At Site 1 is the familiar smiling face of Tim Jesky. Tim has been directing Site 1 for almost 15 years. Tim enjoys visiting with old friends and making new ones as well. He enjoys watching the precision of the flying.
Tim started in RC when he was 18 or 19. He taught all of his children, and now grandchildren, to fly. His sons Joseph and Andrew were both excellent Aerobatics pilots. Paul Flocarri was a great influence on their flying. Joseph continues to fly for fun and his brother Andrew needs no introduction to the world of Precision Aerobatics. Tim says we need to keep a lookout for his grandson, Robert. At 15, he is quite the pilot himself. Thanks to Tim and his family for all they do for our Aerobatics community.
Another new airplane this year is Chip Hyde's OREKA. Designed by world champion CPL, it leaves us wondering is the Oreka a triplane? Or is it a monoplane with one large swept wing and two cantalizers on the top and bottom of the fuselage? Either way, Chip can't find any weak spots, even to the need for no mixing. It is light enough to hold 6,000 mAh batteries and easily make weight.
Jeff Mueller is another new pilot on Site 4. Again Jeff started with CL, like so many of us did. In 1990, he and his son flew a .40-size trainer. They did fun-flys, RC Pylon, and finally IMAC in a big way up to a Cardin 40% Edge! Jeff was a CD for many IMAC contests over the years.
In 2020, he was a spectator at our Aerobatics contest and that was all it took for Jeff to get involved with Precision Aerobatics. Jeff is happy with his Nuance, but for 2022 his eye is on the new Nuance II. Come back next year and see.
Bryce Himebaugh is the fifth first timer at Site 4. Bryce is also flying Intermediate. In the late 1980s, Bryce and his date were flying the .049 Ace Wizard. A Sig Cadet .40 opened up a whole new world of fun.
By the late 1990s, Bryce was a Sportsman pilot flying a Tai Jai with a YS .53 at Mark Atwood's contest.  A family was following closely and so we fast forward to 2020. Bryce was back flying at a Jon Dieringer contest. Bryce's new airplane was an Integral X. This Integral X had several world championship stickers all over the airplane. The previous owner was none other than Uncle Jason Shulman! The plane was the one he flew at the 2009 world championships!
Matt Baccari is flying Advanced on Site 4. This is also Matt's first Nats. Matt started flying in 2010. Many areas of flying caught Matt's interest. He was flying 3D, Pylon Racers, and a variety of fun fliers.
In 2018, he was doing aerobatics with a Contrast LT. Today he is flying a borrowed Alchemy while he is waiting for Andrew Jesky to finish and set up a plane of his own. Matt came to the Nats to see how his flying compared with other pilots. He was also very in the social side of the Nats to pick up some pointers. Matt has found the 2021 Nats as good as, or even better than, he hoped.
If you come to the Nats with your husband, what do you do while he is flying, judging, or making repairs to his airplane? So while Gerald is busy with other things, Debbie Hood gets creative with her knitting needles. Today's creation is a beautiful multicolored scarf.
There is a mystery first-timer on Sites 1 and 3, but you will have to wait until tomorrow to learn his identity. He flies a biplane. Watch this space.