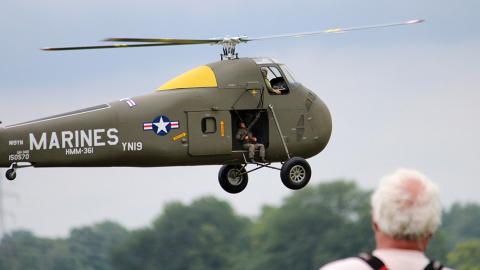 By Mike Unger (mike97unger@yahoo.com)
Day 2 of the RC Helicopter Nats finished without any issues … well I guess I can't say that. The weather made things fun.
After a heat index approaching 100° on Sunday, pilots were greeted in the morning with 60° temperatures and scattered showers on Monday. Sam Corlett, the guy from Texas who was commenting that the hot weather on Sunday was comfortable, wore insulated coveralls all day Monday. Like they say, if you don't like the weather in Muncie, just wait, it will change.
All of the classes completed an additional two rounds of flying, making for five rounds total. By now, the leaders are starting to become clear, although there are a couple classes that still will come down to the wire.
Class 1 is one of those classes. With two rounds to go, Angel Rojas leads Dan Brickman by only 66 points. The last two flights will be critical for these two contestants.
Class 2 newcomer Sam might have been struggling with the 65° temperatures on Monday, but he didn't struggle on the flightline. He continued to put up solid flights, extending his lead over Michael Parker. Michael did take advantage of a small mistake Sam made, giving him the win in round 5 but after drops, Sam still has a comfortable lead. Bernard Shaw and Peter Bisbal still have a tight battle going for 3rd and 4th places.
In Class 3, Jim Hall continues to put up solid flights, distancing himself from Robert Montee. Jim has won every round in the competition so far and looks to have a serious lock on the trophy. Robert has put up solid numbers but just hasn't been able to edge out Jim.
In the FAI classes, Dwight Shilling leads Nob Yasunobu and Tim "The Master of the Universe" DiPeri. The F3C class finished its first round of "F" schedule, providing a more challenging set of maneuvers for the pilots. Wes Minear has the edge over Robert in the Masters class, with Wes having a 145-point lead. With two rounds to go, Robert needs to step up to get into first-place contention.
F3N Finished its fourth and fifth rounds, which was highlighted by the first round of Freestyle to music. Ben Storick edged out fellow Align Team Pilot Aaron Cole to win that round. Aaron fought back in the fifth round, edging out Ben in the set maneuvers. So, going into the final two rounds, there is a tie for first place after drops. Greg Jackson is in third, followed by Robert and Wes.
Day 2 saw the first rounds of the Scale competition. These models are really impressive to look at in terms of attention to detail and workmanship. Then when they fly, it's even more impressive.
In the Scale class, Emile Sherriff won the static round, followed by Darrel Sprayberry, Bernard, and Mark Allen. In the first round of flights, Emile again came out on top with Bernard and Mark in close competition. Unfortunately, Darrell and his heli seemed to have a disagreement during his flight, dropping him to an uncharacteristic last in the first round of flying. We will see if he can bounce back for the final two rounds.
In Sport Scale, Emile won the static round, followed by Bernard and Mark. Bernard would come back to win the flight round, followed by Mark. This class will be interesting to watch with two more flight rounds to go.
So, there you have it—two days of competition are in the books and for the first time during this competition, the weather isn't raining or oppressively hot. Sunny skies and warm temps are predicted for the last day. If you are in the area, stop by and check out the awesome flying and great Scale helis. If you are not, stay tuned to NatsNews for all the updates.