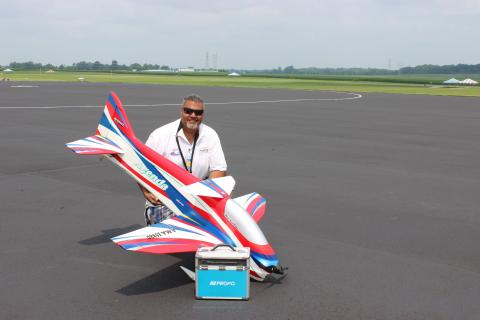 By Jim Quinn
All preparations have been completed. Now it is time for flying.
Who will be the first pilot to test the sky over AMA's IAC in 2021? Ken Velez was the first up on Site 3 after the better part of 2 hours of waiting for the sky to clear.
Ken started flying at the age of 12 in Puerto Rico. He was inspired by his uncle, Wilfredo, who was flying a helicopter.  His first plane was a Goldberg Eaglet. Next he had to get a Spanish/English dictionary to translate the English directions into Spanish. More money was saved and an OS .20 arrived at his door.
More time passed—more money was saved, and a four-channel Futaba radio system arrived. Knowing nothing about setting up his airplane, Ken studied countless articles on how to do it. Finally, after many taxi tests, the Eaglet made it into the air, but not for long.
So, 12-year-old Ken learned that there was a local RC club a few miles away. Ken rode his bike and watched and dreamed. With building and setup help and flight instruction, Ken was in the air. His challenge was focused on mastering the touch-and-go. Fifty flights later and a few new propellers and Ken was heading into the sky.
By 1995, Ken had moved to Buffalo, New York. He found a few aerobatics pilots in Hamburg, New York. He was flying a small Dirti Birdi with a .10 and a Great Planes Mustang.
In 1997, Ken was at a fun-fly in Brockport, New York, and learned about an Aerobatics contest in Sayre, Pennsylvania. He met a lot of aerobatics pilots and was quickly flying an Ultra Sport .40 in a contest. He placed first in novice.
He soon was flying a Summit III and quickly moved to Intermediate. Next he flew a Summit 120. A Typhoon 2+2 and the Typhoon 2000 were next, with the newly released Vivat.
In 2001, Ken finished sixth in Advanced at the Nats. In 2002, he was back in Masters and in 2008 he won Masters. From 2009 to 2021, he has been a strong competitor in FAI.
More than 15 years later, Linda Jesky can enjoy the Nats and not have to spend countless hours a day tabulating scores thanks to the Electronic Scribe.
Keep your eyes open when you are at the Nats. You will be surprised at what you see. Check out these nails!
For her birthday on July 3, this young woman asked for a spa day. Her dad volunteered to take her. Since he was there, why wait in the car for her to get a pedicure? He joined her and feeling very patriotic, you can see the red, white, and blue below. You're a brave man, Lawrence!
We have several first-time pilots this year.  Scott Campbell came in from Pittsburgh. He started out in 1996 with a Wright Flyer. He enjoyed going to fun-flys for many years. In 2002, he saw an aerobatic plane fly and he was hooked immediately.
He started life in aerobatics with the 70-inch Sequence. Ken Dunlap was a great coach, along with Scott McNickle. Now he is flying a WindS 110 and really enjoying the competition on Site 4.
Willie Salvadore is another first-time pilot who is also flying Intermediate. He started in 1984 and enjoyed 3D and some aerobatics with a Funtana. After a break, 2009 saw him flying an Inspire 90. At his first contest in Sportsman, he flew to a second-place finish. He flew a lot in 2010, but stopped abruptly in 2011, needing a heart transplant! Of course, that stopped all flying.
In 2020 there wasn't much flying, so it gave Willie time to build a new airplane, a Fantasista, and get in some serious practice. Practice has been paying off in 2021, with a lot of success in D6.
Michael Oka is also a first-time pilot on Site 4. In 1984, he was doing a lot of Control Line flying. By 1994, he was flying a Calypso and a Temptation was in the works.
The work got in the way until 2016, when he was back with the 62-inch Acuity. He electrified his Temptation, but not knowing the limitations, he converted it to a 12S system. It flies great but … in 2021 he was seriously practicing the Sportsman sequence until he learned that the Nats begins with Intermediate.
With a lot of help from another great FAI pilot, Anthony Romano, three weeks later here he is with his Fantasista. Michael has a space limitation for his airplanes because he lives in Manhattan, New York, about a block from Central Park! He thought, correctly so, that the 2021 Nats would be a great learning experience.
Are your eyes still looking around at what to see and find at the Nats? Here is another great view.
Since we've been away for a few years, we are meeting a lot of new people and airplanes. Chris Fitzsimmons is a favorite here at the Nats. He has brought two new and very interesting airplanes this year. Chris had been following the Cuantic for some time online. He knew it was his dream airplane. How big can a fuselage get? The Cuantic is part of the answer.
The sister ship to the Cuantic is the Quark. The fuselage is the same, but it is a biplane. Chris says there is no problem with the large side profile in the air. Loving the Cuantic, the biplane Quark was a logical follow up. There are only two Quarks in the world, we're lucky to have Chris' at the Nats.
Remember "Team Chuck" from 2018? "Team Chuck" was everywhere that year. Of course, Chuck Edwards still has a decal on his plane, but if you are alert you can see other vestiges of 2018 and "Team Chuck."
Finally, let's meet another first-timer at the 2021 Nats. Mark Radcliff is not new to the Nats, of course. In 1971, at the young age of 16, Mark was first in Expert in the under 19 age group.
Mark started RC in 1967 with a Tri-Squire on three channels. He moved up to full house with a Goldberg Skylane, and of course his first competition airplane, the Andrew's Aeromaster.
Mark was on four World Championship teams with all four seasons, winning the team 1st place. Mark's best finish was a 3rd place.
Mark was also interested in the early days of IMAC. By the mid-1980s Mark was flying less. In 2000, when AMA was hosting its Homecoming event, Mark came and wanted to give back to the organization that give so much to him. In 2013, he became AMA's District III vice president.
Giving back is what led mark into another first-time experience at the 2021 Nats. Mark is the Site Director for Site 3. Thanks Mark for all you have done and continue to do for us, the members of AMA.