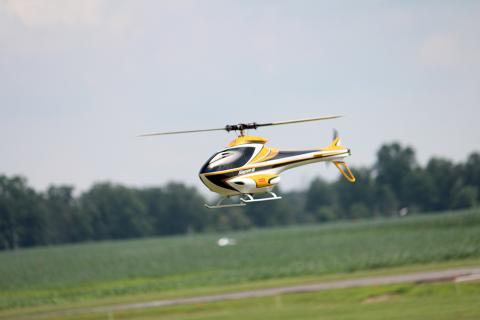 By Mike Unger (mike97unger@yahoo.com)
The 2019 AMA Helicopter Nats kicked off Sunday at Site 5 on the AMA grounds. This annual contest brings the best precision and scale helicopter pilots in North America to Muncie, Indiana. This year, like every year, it is the opening event leading up to the IRCHA Jamboree that starts Wednesday. Unfortunately, like most places in the US recently, the weather is brutal. With temperatures in the mid-90s and humidity also in the mid-90s, it makes it feel like it's over 100°. That's mot terribly pleasant. So, in an effort to beat the heat, the competition will start at 7 a.m. each day and run until early afternoon, when we will stop and give everyone a chance to go cool off. Then if the weatherman is right, Monday and Tuesday's competitions will continue with the normal 8 a.m. to 6 p.m. flights.
This year, we will be running AMA Classes 1, 2, and 3. These classes are designed to be the steppingstones to the top class, F3C. Class 1 is the first step, with a mix of hover and forward-flight basic precision maneuvers. Class 2 has the same kind of mix but adds more difficult orientations, hovers, and more complex forward-flight maneuvers. Class 3 steps it up again with even more complex and compound maneuvers. Once you have mastered them, you are ready for the challenge of F3C.
The F3C class is not only recognized by the AMA but is also an FAI (Fédération Aéronautique Internationale) class that is contested all over the world. So much so, that each country enters a team of precision pilot to represent it on the world stage. So simply put, the pilots at this level are some of the best around. The maneuvers in this class are very complex and include high-speed and compound aerobatic maneuvers. It's very impressive to watch!
Also at the Nats this year will be the F3N class. This class is for 3D pilots and is similar to other classes in that pilots are judged on how well they do the maneuvers exactly as described in the rulebook. These maneuvers are beyond anything that a full-size helicopter could ever dream of, and in many cases, seemingly defines physics. If you want to see things that you never imagined were possible, this is the one.
Besides aerobatics competition, there are also a number of Scale classes at the Nats. These pilots and builders are challenged to build the most realistic scale representation of a full-scale helicopter. Not only are they judged on how real the models look, they are judged on how well they fly like the real thing. In these classes, you will see military helicopters, air ambulance helicopters, and even the occasional Air Wolf Bell 222 helicopter that many of us remember from the popular TV show.
As predicted, the heat and humidity were an issue for the first day of the Nats. We started early with the hopes of getting three rounds in and avoiding some of the heat. So, at 7 a.m., Dan Brickman was on the flightline doing the first competition flight of the day in Class 1. Things went smoothly all day, with every competitor getting three complete rounds in.
In Class 1, even though there are only two competitors, Dan Brickman and Angel Rojas traded the lead back and forth throughout the day, with Dan in the lead by a slim 50 points. With four more rounds to go, this one will be interesting to watch.
Class 2 saw the arrival of a new guy, who drove all the way from Texas, as the surprise leader. Sam Corlett leads the field so far by winning all three rounds. Although there are still a number of rounds to go, someone needs to step up to give Sam something to worry about. That should be possible because previous Class 1 champs are in the mix with 2018 Class 1 second-place finisher Michael Parker in second, and 2016 champ Bernard Shaw in third.
Class 3, like the other AMA classes, is turning into a good battle as well, with Jim Hall in first with a solid lead over Robert Montee. Robert shouldn't be counted out because he also is a previous champion in all three AMA classes and can mount a comeback.
As for the FAI classes, in F3C it's a lower turnout than in years past. The world championships are right around the corner, and many of the Team USA members are busy preparing for the trip to Germany.
The usual suspects are still at the Nats. Dwight Shilling is in first place, followed by Nob Muraki and Tim "The Master of the Universe" Diperi in third. Tim got that title by being that guy who helps out with the contest but doesn't quite fit into the Contest Director or Assistant Director role. Master of the Universe might be a little over the top, but helicopter guys tend to be a little over the top anyways, so why fight it?
F3N had a surprise turnout this year. Like F3C, the world championships for F3N are also in Germany so turnout was light. But Ben Storik, Aaron Cole, and Greg Jackson are still putting on a great show with some awesome precision 3D flying. After three rounds, Ben is in first, Aaron in second, and Greg in third.
Finally, for the only unofficial class this year, Wes Minear leads the Masters Class, followed by Robert Montee. This class flies only the preliminary F3C maneuvers and is intended to be for those competitors who want to get into F3C competition, but just want to concentrate on one set of maneuvers. Official F3C competitors fly two sets of flight maneuvers, making learning both a huge time commitment that not everyone has.
After a very hot and humid day, all of the classes are tightly contested with very high levels of skilled pilots. With the temperature getting back to a little more reasonable level in the coming days, it will be fun to watch how things pan out.
Monday we will continue with more rounds in every class, as well as see the first rounds of the Scale Helicopter competition. If you are in the Muncie area, feel free to stop by Site 5 and see some great flying. If you aren't, stay tuned to the NatsNews for all updates.