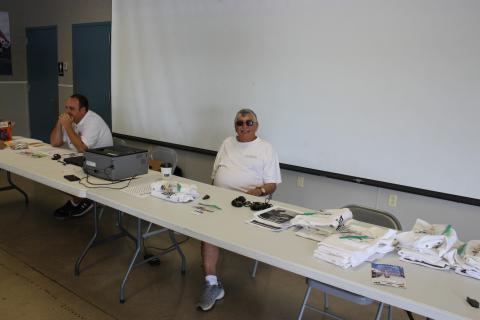 By Jim Quinn
The first day of the RC Aerobatic Nats is not a flying day. Day one is for registration, weighing all of the airplanes, and certifying the 2-meter maximum fuselage length and wingspan.
To expedite the registration, ED Jon Dieringer has enlisted great help joining him at the registration desk, like Tim Jesky, a legend on Site 1.
Jerry Budd is getting his plane certified. As an electric-powered airplane, all of the batteries that Jerry uses will also have to be certified and stickered.
The Electronic Scribe judging system has become the standard for many local contests in the US and internationally as well. Peter Vogel has generously joined us at AMA's IAC to ensure all goes smoothly for scoring each flight.
Peter joins ED Jon Dieringer to iron out some final details. Peter is explaining the problem he is having mounting the antennas high enough to communicate with the judges.
AMA to the rescue. Problem solved! In a flash, two of AMA's finest appear at Site 3 with the solution to Peter's problem. Josh Green and Greg Messer arrive with 8-foot-long poles with a square foot attached to the top of each pole for the magnetized antenna. They also brought long and strong zip ties to attach the poles to the already set up shade shelters. Thanks to Josh, Greg and all the dedicated AMA staffers who are essential to a successful Nats.
Rusty Dose, our emcee for the week, has collaborated with Jerry Budd for a "stroll down memory lane."
This year, Chip Hyde is flying the exotic Oreka design and Greyson Pritchett, the equally exotic Encourage. These two very modern designs stand in dramatic contrast to Chip's 1976 Circus Circus.
Rusty and Jerry have a special treat later in the day, strolling down that 45-year-old, and even older, lane.
What could we do while our flying was curtailed in 2020? Design a new airplane, of course. The Gemini is one of the blessings of the 2020 season. Robert Hirsch, the designer of the Adverrun power system, wanted an airplane to take full advantage of the power system he designed. He collaborated with two top American pilots, Mark Hunt and Joseph Szczur. Thus the 2021 Gemini was born. Brandon Landry is currently competing with the only flying Gemini in the US. If you are interested you can check them out at CKAero.
Along with new planes, our 2021 Nats has several new faces. NSRCA Secretary Heedo Yun can be found at Site 4 flying his beautiful ETUDE. Along with doing a great job as our NSRCA secretary, he is also doing some great flying on Site 4.
Heedo wanted to get into competition flying with an IMAC airplane. Unlucky for him, the plane crashed before his first contest; but lucky for us, he started back into competition flying with a KAOS. He has never looked back and he has the flying skills to prove it.
Our first day of the 2021 RC Aerobatics Nats ends with a pilots meeting. Our ED begins the meeting with comments about this year's competition and gives many well-deserved thanks for all of the support he has been given in preparation for this week. He has drawn a big crowd.
John has others speak on various other aspects of the week. Tim Jesky gives several pointers for smooth running lines at all three sites.
Jon Carter, NSRCA's chief judge, discusses some of the finer points of judging, including cautions about cellphones on the judging line. At that moment, a cellphone rings in the crowd. Did Jon have that planned?
NSRCA President Charlie Barrera makes several encouraging comments about the health of NSRCA and encourages nonmembers to join and make their voices heard.
Rusty Dose, our emcee, take the mic and begins a most interesting, informative, and entertaining conclusion to the pilots' meeting.
Mark Radcliff did a flying demonstration with a Kwik Fly, which Phil Kraft flew in a World Championship win. Mark flew in four World Championships.
A fascinating panel discussion was hosted by Jerry Budd with the impressive panel of Mark Radcliff, Chip Hyde, and Mike Mueller.
As has become a tradition at the conclusion of the pilots' meeting an ice cream event"ends the day. Smiling faces is always a great way to end a day