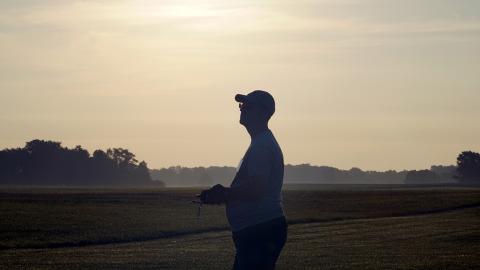 By William Drumm (midair72@hotmail.com)
Day 3 for RC Combat started out beautifully. Only a few clouds painted the sky, and the sun was shining brightly.
GNAT Combat was on the agenda for Thursday. GNAT airplanes are easy to build and are quite rugged because they are built out of coroplast and are all of the same design. They use a .15 engine that is legal for SSC and use the same 8 x 3 propeller without an rpm limit.
With only seven pilots flying GNAT this year, we went all up once again. The heavy morning dew forced the use of red flagging tape streamers again. The scoring was average until the grass finally dried enough for the use of the black crepe paper streamers. Then the cuts started to fly!
Newcomer Cody Oosting got his first of many to come, three-cut rounds. With the help of the Civil Air Patrol Cadets judging, we were able fly right through all 10 rounds quickly and finished before lunch.
After all was said and done, Heath Bartel squeaked out third place with his final round of 540 and a total score of 1,880. Andy Runte had one bad round and ended up taking second with a score of 2,680. That left the opening for Bill Geipel to take home first with consistent rounds and a score of 2,812.
After another great lunch from the Civil Air Patrol, we were ready to start Open B. But ... Mother Nature had different plans. A good shower popped up right over Muncie and forced everyone to scurry to protect their equipment.
After the rain setback, we finally started Open B and had to use the red flagging tape streamers again. Open B planes can use up to a .30 motor and have no propeller or rpm limits. Most pilots fly a .25 engine because that's what is readily available. With no restrictions, they were the fastest RC Combat planes that flew at the Nats.
George Pritchett loaned Cody Oosting a plane so that there would be three pilots flying. It quickly turned to only two pilots when Bob Loescher had water issues with his gear. With only the two of them, George and Cody agreed to fly just six rounds to determine the winner. George was having motor troubles throughout the rounds. But in the end, Cody Oosting ended up in second with 784 and George Pritchett took home first with 1,040.
After Open B wrapped up, the E-1000 planes were broken out again and Bob Loescher joined the fight today. Unfortunately, Dirk Oosting slipped in the standings after crossing the pilot line on launch and then was out for the day with no more airplanes to fly. Crepe paper streamers were able to be used and are much preferred in E-1000 because the slow and lightweight planes struggle to cut the red flagging tape.
After four more rounds to make a total of eight, the Wisconsin boys topped the rankings. Mike LaPacz took third with 924. Heath Bartel was unable to hang onto first and slipped to second with 1,388. Andy Runte again took first with a score of 1,816
And that's a wrap for RC Combat at the 2019 Nats. Cutcha next year!!!