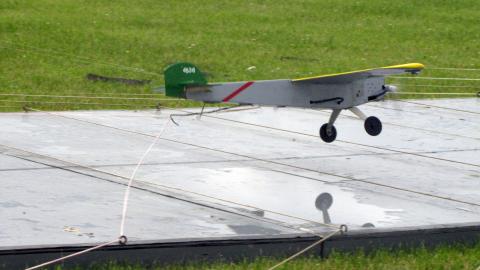 By Dick Perry (tailhooker@comcast.net)
The Scale Carrier classes, Class I (up to .40 displacement engines) and Class II (.40-.65 engines), competed on Wednesday. In addition to vying for top honors in each class, the contestants were seeking to add enough points to their Profile scores from Tuesday to take home the Eugene Ely Award as the outstanding CL Navy Carrier modeler at the 2019 Nats.
It was an interesting weather day, with relatively strong, but steady wind. The weather conditions should have made landings much easier, and there were more complete flights in the Scale Carrier events than in Profile the day before. It was not all smooth sailing, however, as the wind direction in relation to the deck added some challenges of its own, with crosswinds at the deck and ballooning about a quarter of a lap before landing.
Carrier fliers are familiar with the vagaries of carburation, glow plugs, and combustion chemistry. Electric power has the potential of improved reliability, and ease of starting is certainly a plus, but the electric fliers seemed to be finding some new and interesting operational characteristics to make competition challenging. While our internal combustion engines tend to age gracefully with reasonably well-understood wear and aging characteristics, electronics seem to hide their pending failures more effectively, and sudden and complete failures seem more common than the gradually degrading performance we see in engines.
Although electrons can be trained to do some wonderful things, they occasionally behave in ways that make them hard to trust. Pete Mazur discovered that his ESC had apparently reverted to some default program settings that were incompatible with the voltage and current characteristics of takeoff and high speed. After reprogramming the ESC and replacing the motor to try to eliminate all potential problem areas, Pete seemed to be on the way to completing his third flight when another failure mode caused a flameout after five laps of low-speed flight. Analysis of the last problem will take place in a calmer, cooler, and quieter setting than the flying field—most likely accompanied by an appropriate adult beverage.
At the end of the day, Burt Brokaw's well-practiced skills and very reliable equipment once again resulted in first place in the gas classes, with Mike Anderson winning Class I electric and Pete Mazur taking the honors in Class II electric.
Perhaps the most interesting flying of the day was overhead as the Commemorative Air Force B-29, FIFI, made two passes while providing rides to visitors at the Muncie airport. FIFI was in Muncie, along with an AT-6 Texan, and a Stearman PT-17 biplane.
At the annual meeting and awards banquet of the Navy Carrier Society, contestants received their awards for the AMA Navy Carrier events. The Eugene Ely Award went to Burt Brokaw, who placed first in all three gas classes this year. The Carol Johnson Volunteerism Award went to TJ Vieira from The Buzzin' Buzzards club in Dayton, Ohio. TJ is relatively new to Control Line flying and hopes to be flying Carrier at the September contest held by the Buzzards. He served as a timer for the first two days of Carrier competition and helped set up the deck. We're looking forward to having him as a Nats competitor next year.