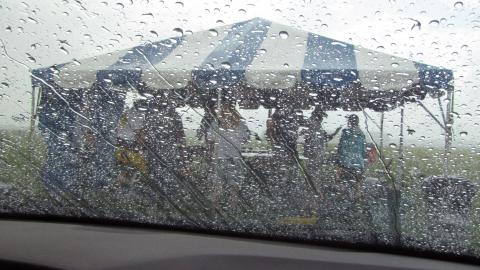 By Dick Perry (tailhooker@comcast.net)
To say that the Profile class of the Navy Carrier event was exciting for the contestants would be a bit of an understatement. The forecast storms held off through the morning on Tuesday, but the wind did not. Wind speeds of around 10 to 12 knots steady state were tolerable, but the gusts in excess of 20 knots through the morning made flying precarious. Those who completed landings were few, and, of course, they occupied the top spots.
Burt Brokaw moved into first place early with the first complete flight, flying his Nelson-powered Bf 109. A few flights later, Paul Kegel managed the second landing and moved into second place with his Guardian. Melvin Schuette was next to achieve a complete flight with his MO-1 and a score high enough to challenge Burt and move into second place.
As the wind increased throughout the morning and early afternoon, most contestants were happy if they could earn a low-speed score before succumbing to the wind. That included the Electric Profile contestants, with only Mike Anderson and Pete Mazur completing low speeds, but no landings.
Then the sky opened, and everyone scrambled to put away models, and run to cars and the shelter of the scoring tent. After a few minutes of very heavy rain, the sky turned blue, and a few enterprising souls brought out airplanes to try to beat the next rainstorm.
Although the wind subsided a little following the rain, it soon resumed its gusting, and the flight challenges continued. Paul Smith was the only contestant to achieve a landing after the rain, allowing him to move into third place.
Although all of the complete flights were flown by models with internal combustion engines, it was the electric models that achieved the best high speed (Pete Mazur, 102.5 mph) and low speed (Mike Anderson, 11 mph) scores.
The standings for the Eugene Ely Award remain close with four internal-combustion models leading the pack, followed by two electric models. The winner of the Eugene Ely Award will be determined today when the Class I and Class II scores are added to the Profile scores from Tuesday. The leader at the close of flying on Tuesday was Burt Brokaw.
In the Sportsman Profile competition, Don Sopka beat out Bob Hawk to take first-place honors.