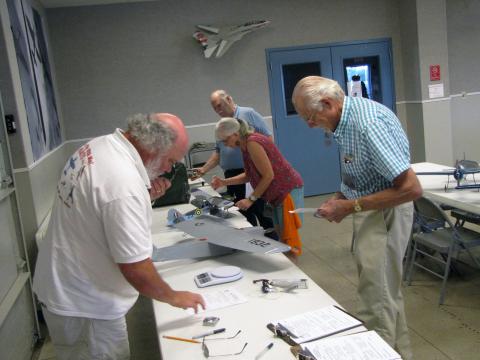 By Dick Perry (tailhooker@comcast.net)
Although there are stormy seas forecast for most of the week, that didn't dampen the spirits on Monday as the CL Navy Carrier contestants gathered to process their aircraft for the week's competition. Some of the regulars are sitting it out this year because of conflicts and injuries, but there are a few new faces and some returning veterans from previous years to fill the ranks. There were also some new aircraft this year, and the percentage of MO-1 models is down with the variety of alternative aircraft, especially in Profile, that were processed this year.
The schedule begins with Profile Carrier on Tuesday, with the AMA Scale Carrier competition (Class I and Class II) on Wednesday. Both electric and internal combustion events will be flown on Tuesday and Wednesday. The Navy Carrier Society meeting, awards presentation, and dinner will be on Wednesday evening at MCL restaurant. The Eugene Ely Award will be presented to the outstanding competitor in all three classes.
Thursday will include a variety of unofficial events including Skyray Carrier, .15 Carrier, and the three Nostalgia Carrier events featuring models designs from more than 40 years ago.
The best time to watch CL Navy Carrier is usually in the morning, but rain and storm forecasts will be affecting the schedule this year, so come out whenever the weather looks good or you see activity on the Carrier circles in the southeast corner of the turf pad adjacent to the Racing circles.
Event Director Everett Shoemaker processes Pete Mazur's Class II electric MO-1, while Jo Shoemaker and Paul Kegel prepare their models for processing.
Carrier models filled the table at the McCullough Room of the museum during processing.
Jo Shoemaker's Nostalgia Class I entry is this brand-new rendition of Dick Perry's Short Seamew, published in the first modern issue of Model Aviation in 1975.