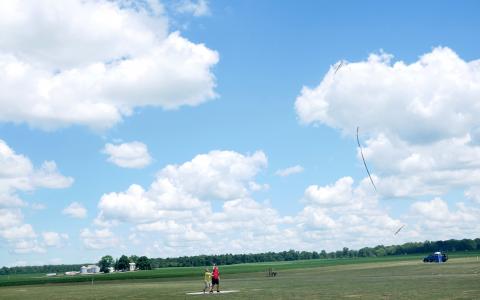 By Phil Cartier
Tuesday's event had a good turnout of 18, including more than the usual suspects. It fit right in with the pleasant weather and not too much wind. The weather did get pretty unsettled by quitting time around 6 p.m.
While most of the planes and engines were F2D equipment, there were some different designs. Phil Cartier flew a Gotcha 550 with a Magnun 36 and a ten-inch propeller. It flew just fine, but a very violent collision to the motor took it out before it could show its stuff.
Ed Bryzs had another version of his big, rectangular foam wing. Several people flew variations of foam wings with about the same wing area, but a longer span that helps reduce drag. All the others were variation of the now standard F2D plane—a very strong foam/wood/paper leading edge, a now standard center rib, and either a type of elliptical trailing edge of carbon fiber or a straight trailing edge. The elevator is mounted on a short extension from the wing. The only big difference between the variations is who built them, what materials they used, and how long they will take to get here.
Slow Combat has been around for years. A lot more people can fly at 75 mph compared to 90-100 mph. The engines are almost all Fora 2.5cc motors that weigh about 4 ounces. The design has been refined over the years for more power, durability, and, I assume, easier manufacture. The streamers are 10 feet long, which makes a nice big target. It is hard to see because pilots continually have midair collisions.
Read all 2020 CL Combat Nats coverage HERE.
The Winners (L-R) Cary Minor, first; Event Director Dave Edwards; Steve Wilks second; Bob Mears, third; Matt Brown, judge; Sam Londke, Junior flier, Andy Minor, fourth; the judge in back didn't get me his name; and Arlene Mears, who does tons of work for both the event and running MACA.
Allen and Cary flying and the midair result.