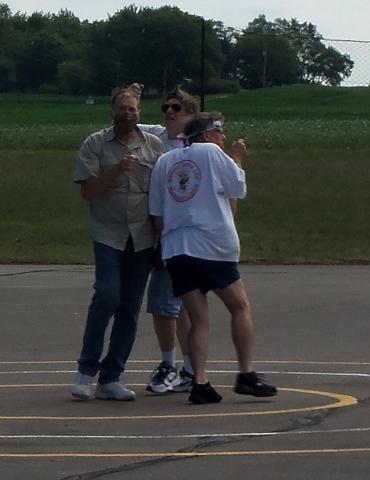 By Tim Stone
Racing at the 2020 Nats began today with two events on the schedule: F2C (Team Race) and AMA Mouse I Racing.
F2C
Interest in F2C has dropped so much in the US that the event is nearly extinct. It has become so fast and expensive, that just a handful of people here still do it. At the Nats this year, it was really a "non-event" as a result of low participation. Think of it as a practice session with timers. Almost none of the normal F2C protocols were conducted. Contestants showed up just to run their stuff and have some fun.
Four teams entered, with Mike Greb showing a newfound interest in this event. He did pretty well, so says this editor. The world class team of Dave Fischer and Steve Wilk ran a leisurely but fast time for the win. Dave ran his new Guppy model.
Mouse 1
Mouse 1 had 10 pre-entries, making it the most popular racing event. In stark contrast to F2C, nearly anyone can source equipment and build planes for this event. The team of Bob Whitney and Dave Hallas came out for the races again with some fast Wayne Trivin equipment. They did well.
Junior Sam Londke got some more racing time in his logbook flying with Bob Whitney pitting. Texas twins Pat Hempel and Bill Lee made a great showing, as Lee/Hempel, Hempel/Lee both made the finals! Melvin Schuette and Tim Stone stepped into pit and fly respectively. Bill commented that he had pretty much done this with equipment that he solely fabricated. He had the fastest preliminary time.
Mike Greb and Bill Bischoff had it all together in the final winning decisively. Bill Lee was forced to make another pit due to mileage problems and finished third.
All-in-all, a nice warmup in the face of a virus pandemic with a better than expected turn out. More to come!