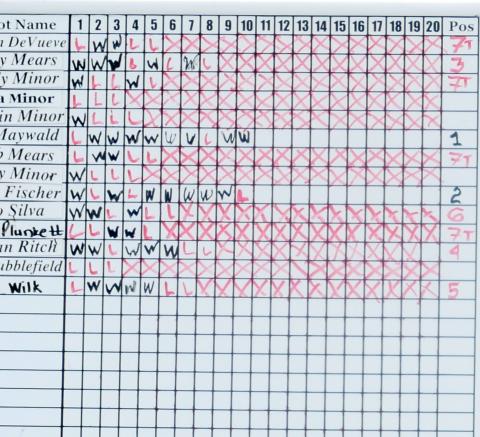 By Phil Cartier
Sunday saw lots more great flying in the F2D Combat Finals. The turnout was low—14 entries. All of the pilots were competent fliers with good equipment and lot of contest experience. It really showed in how smoothly the matches went and the excellent system for scoring and displaying the results.
It took 11 matches on top of the 32 matches on Saturday to get to the new winner.  Bill Maywald won first place with some great flying, not only winning matches but doing so using only three planes. Dave Fischer came in second.
There was a little confusion in the last couple of matches. With three competitors in Round 9, Bill did not get a match, so he and Dave flew the match for first-round 10. There were some very quick mix-ups while flying and Bill ended up crashing his second plane. He and his pit crew never said a word.
The match wasn't stopped, so Dave did a few Figure Eights when he should have stayed level. He ran out of fuel and Event Director (ED) Dave Edwards had a small quandary. Bill got a win for the ED's mistake, but had nobody to fly, except Dave. So, the ED put them both in the last finals match. It was a good match with Maywald coming out on top 2-1 on cuts.
Monday starts with F2D Fast Combat.  A pilot can use any equipment F2D legal from 2008 on. This is pretty popular for flyers who have F2D equipment that doesn't exactly meet the latest and greatest rules changes.
Read all 2020 CL Combat Nats coverage HERE.
(L-R) Bill Maywald, first; Dave Fischer, second; Andy Mears, third; and Rylan Ritch, fourth; Event Director Dave Edwards; Matt Brown, judge(back row); Audryn Mears, helpful runner; Arlene Mears, administrator, and Chris Gay, circle marshall.