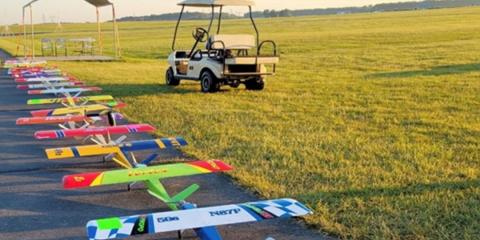 The early morning lineup of models waiting for their test flying slot.  Tim Lampe photo.
By Dan Kane
Today we started the first day of 426. The plan is to fly six rounds of qualifying.
426 is being run using a qualifying/finals format. The idea is to fly 8 rounds of qualifying and re-matrix the top 28 pilots into a five-round final to determine the 2023 National Champion.
The qualifying/finals format presents different strategies for competing, and many are just trying to make the finals. It proves to be fun and engaging for all. The two final rounds of qualifying will be flown on Wednesday morning.
Below are the results after the first six rounds: