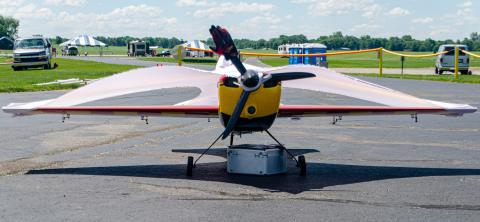 Photo by Rich Whitlow, 2021 Nats.
By Amanda Darling
The RC Scale Aerobatics (IMAC) Nats 2022 started off with a sunny day with mild wind and lots of practice.
The pilots' meeting began at 5 p.m. on June 27 at the AMA Headquarters building and included a brief refresher on rules, safety, and judging criteria. Chips and dip were served. Toby Silhavey presented the pilots with personalized stick airplanes. We concluded the night with a spaghetti dinner provided by the Silhaveys.
All of the preparations have been completed. Now it is time for flying. We are looking to have great Muncie, Indiana, weather to start off our first official day of competition on Tuesday, June 28. IMAC will open up with 18 pilots striving for perfection. Friday, July 1, is the final day of the contest.