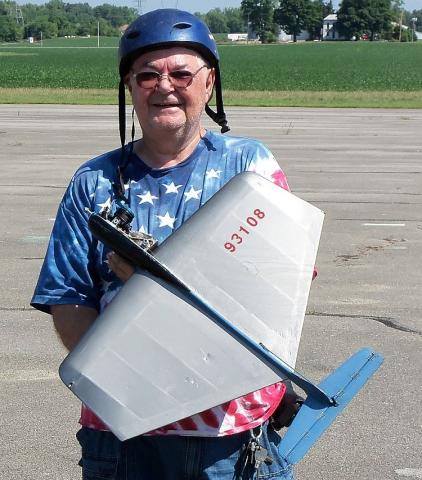 By Tim Stone
Two events were run on Tuesday, July 19, AMA Slow Rat and AMA Goodyear. Slow Rat was run first knowing that this was going to be a 90°-plus day. All entries ran GO .25s with the exception of Richard Kucjecko's beautiful SH-powered Bearcat. The attrition rate was terrible, with 3 of the six teams entered not posting times. In round one, Bill Lee's well-worn plane suffered a glow plug clip hang-up on the engine head that sent both pilots running as the plane wingovered into the circle at 90°.
In round two, Richard launched after a good start, sadly with a stuck elevator. His plane looped, entangled Bob Oges' lines, but after three laps, pilot Chuck Barnes was able to shut it off, saving Bob's plane. It was a very good save handled well by Bill Bischoff also, as Richard's pilot.
Bill Bischoff and Chuck Barnes posted close times for a #2 and 3 finish. A final race was not run, and entrants agreed to stand on preliminary times.
After lunch, heat and humidity were getting up there, taking its toll on pilots and pitmen. Six teams entered, but only three posted times. Motors were cooperating for almost everyone. Engines used were Nelson, Rossi, and Fora. Times were a little slow compared with past years. Aging equipment and sourcing engines and parts has become a problem.
Bill Bischoff/Mike Greb were able to have some good runs for first place. Bob Oge and Chuck Barnes Sr. were #2 and 3 respectively.
NatsNews content is the sole responsibility of the author.