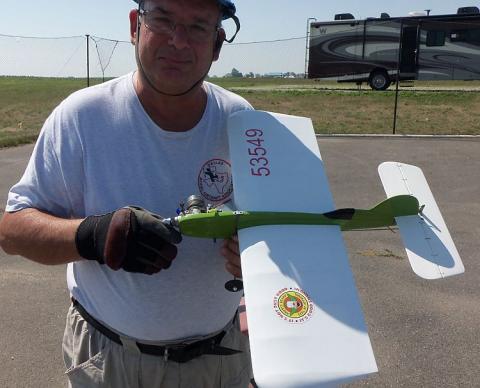 By Tim Stone
The weather calmed down on Thursday, and racing got off to an early start on the last day of the 2022 CL Racing Nats. Dallas Sport Goodyear was run first, leftover from Wednesday.
Twelve teams entered—the highest turnout of all CL Racing events this year. All preliminary races were run three up.
In round one, Bob Heywood had some mechanical issues, and Patrick Hempel ran the second-fastest (4:06.24); Mike Greb had a decent time also.
Round two ended with perennial winner Bill Bischoff having troubles in the pits. Paul Gibeault/Mike Hazel had a run good for #3 preliminary time using 'rent-a-racer' Polecat from Bill Bischoff. Event favorite Bill Lee crushed the round with a 3:58.42 (new Nats record?). Bob Oge/Chuck Barnes pitted Tim Stones' plane to a 4:15. In round 4, Richard Kucejko ran a career low 4:11.87 for 4th place.
After all preliminary races were run, contestants decided to stand on preliminary times with no 160-lap final, due to pilot shortage, and time constraints.
Clown Race was run next with five teams. One 7.5-minute was decided upon with no final 15-minute race. Bill Bischoff's nice model had a decent 131 laps to win with Barnes/Barnes close behind with 126 laps.
Super Slow Rat was the last event with 9 teams. Races were run 2 up due to pilot shortage, and each contestant got two 100-lap races. Bill B./Mike Greb won with a solid 5:20. All other teams were at least 24 seconds behind, and the week's racing wear was beginning to show! Scores are posted in pictures.
A banquet was held in the evening, with Bill Lee winning the High Point award and Tim Stone winning the Sportsman award. Issues brought up during the banquet will be written up in the NCLRA newsletter. Thanks to all who attended!
NatsNews content is the sole responsibility of the author.