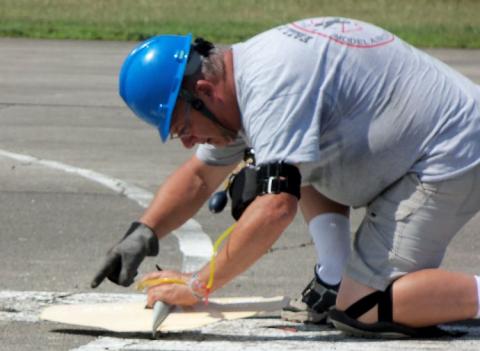 By Tim Stone
Control Line Racing got off to a start Monday, July 18, after some brutal weather the day before. Rain flooded much of the area on Sunday, causing many to have to detour to get to Muncie.
Team race was run by TJ Vieira from the Dayton Buzzin' Buzzards club. TJ won the Concours d'Elegance award with his fine-looking Good News model. Three teams were entered, so it was decided to just run a 140-lap final.  
Both TJ and Richard Kucejko had mechanical problems, leaving Bob Heywood and Bob Oge to be the only team to complete 140 laps. Bob used an old BTR built by Bob Whitney with a Veco .29 that ran very well.
Mouse Race was run next, and 10 teams were entered. Races were all run as 3-up, 50 lap back-to-back preliminaries. Paul Gibeault came in from Canada after pandemic border restrictions were lifted. Mike Hazel flew for him. Paul turned a near-record 2:15 preliminary with great airspeed and great pits. The final race was Paul, Bill Lee, and Melvin Schuette. Bill turned a 2:30 preliminary, and Melvin a 2:45. A 100-lap final was run with final placement Paul/Mike first with a 5:00 time. Melvin was second, with Bill Bischoff dead-stick for the last two laps, and Bill Lee third.
F2C only had two entries, so it was decided to just run a pair of leisurely 100-lap races. Bill Lee/Patrick Hempel was the faster of the two.
NatsNews content is the sole responsibility of the author.