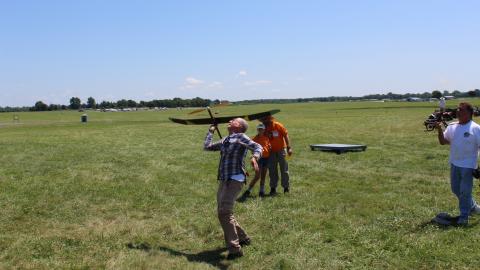 By Rick Pangell (themaxout@aol.com)
Waking up and not being able to see across the street from my motel room made me want to just toss the covers back over my head. But, having a cup of coffee and driving to the field made a world of difference.
It was dead flat and no rain! Everyone had basically gathered up on the knoll just west of the Control Line circles. The Catapult pen was set up on the hill just east of there.
Cargo was set up on the cross runways on the center of the south field by the campground, and the OT ABC Cabin models flew there also. This made covering all of the area somewhat difficult, but that is a good thing because that also meant there was plenty of flying, but where was difficult to anticipate.
Model airplane noises were coming from the gas pilots but there was a lot of E-36 activity and not much noise. Thermals were many and in short cycles, but enough for a lot of maxes to be flown.
On the AMA side of life, B Gas, BNOS Gas, and 1/2A Classic models were filling the sky.
Ronnie Thompson put up an amazing 8-plus maxes to win B Gas, and Ruth Bane, who took second, also put in eight … a good two maxes ahead of the pack of 10 fliers.
B NOS sported a dozen fliers with great models: Lucky Lindy, Dixielander, Ramrod, etc. It brings back a bunch of memories watching all of those older designs now. And, they still fly and are very competitive, even today!
1/2A Classic had 15 adult fliers. Scott Batz from Albuquerque, New Mexico, took the honors with a score of 723, only 34 seconds ahead of second place. You needed five maxes to be in the top three places. That tells you the flying was good and so was the air.
The lone flier in Cargo was Mike Fedor of Texas. He scored 191. OT Cabin had four fliers, and all were in contention. Bud Romack led the pack with 353, ahead of second place by nearly a minute.
Small NOS Rubber was nicely contested with 12 pilots. Robert Marier did 889 seconds, well ahead of second-place Bud Romack, who scored 554 seconds. Small NOS Rubber brings out a rather easy model to build and fly, with the Gollywock being a sound choice.
F1B fielded nine fliers. This contest is flown in rounds, seven by the rules at major contests, and maxing out can be a challenge for all seven rounds, especially with the max at 180 seconds. Only four maxed out and flyoffs determined the winner. Greg Simon won with a 1,490, just 26 seconds ahead of Aram Schlosserg who was only 4 seconds ahead of Brian Pacelli, former Junior Team member.
F1J is a smaller F1C-type model, using a motor displacement of 1 cc or .061 cubic inch displacement. F1J is flown in a five-round format. Neal Menanno was "clean," or maxed all five flights for a score of 600 seconds, with Faust Parker following with 583 and Mike Fedor with 551. Good flying!
Outdoor Hand-Held Catapult Glider is such a big name for such small models. There were many entries: 22 adults, three Seniors, and four Juniors flying.
Larson Ringlien from Minneapolis was the high-scoring Senior with 307 seconds, with Hailey Matson close behind with 224, and Roman Stalick with 127. The four Juniors had William Reuter getting 183 for first, Kiley "Skilly" DeLoach in 2nd at 179, Wes Reuter with 15, and Beckham Reuter with 31.
The adults really worked hard and thermals were tricky to pick. There were only two maxouts: Tim Batiuk and Rick Pangell. Flying for the day had only 5 minutes left and Tim and Rick had a flyoff for the win. They both elected to launch at the same time. The result was some poor air picking, with Tim winning by 9 seconds! The next seven fliers were all within a minute of each other, which shows how well-contested the event is. But of course, just about everyone has a catapult in his or her model fleet, and if not, should have.
The best was saved for last: E-36. There were 33 entries including two Juniors.
Wow, what flying. Junior Kiley DeLoach maxed out for 360 seconds and William Reuter scored 314. Way to go!
The adults really put the pressure on too. Craig Greening took second with more than seven maxes for 887 seconds to take second place. In third place, Don Bartick flew nearly six maxes and the next 12 fliers maxed out. But, an incredibly great show of flying was performed by Stan Buddenbohm, who had an incredible 15 maxes in a row for 1,800 seconds and a new national record.
Congratulations, Stan! What a way to wrap up flying for Wednesday.