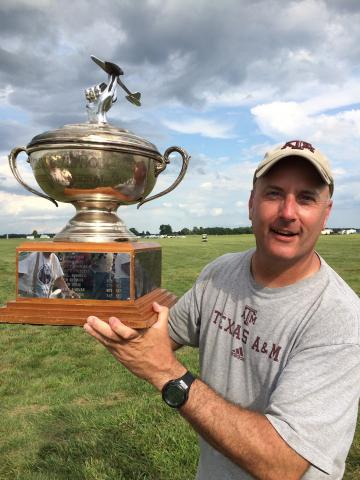 By Don DeLoach
The Free Flight Nationals are back August 5-9... for (can you believe it?) the 93rd running.
We will fly 71(!) events this week, plus several ad-hoc evening and morning "fun" events. There were about 145 preregistered fliers as of Sunday, August 4—an excellent turnout. The weather forecast looks very promising for the week with only a couple chances for rain in the middle of the week.
This year's FF event director is Andrew Barron of New Haven, Connecticut. Andrew is a seasoned Free Flighter with many decades of experience running contests, so this should go very smoothly. He's also a member of the Free Flight Hall of Fame. Andrew wrote:
"As Free Flight event director, I welcome all participants, helpers, and spectators to the National Aeromodeling Championships. We are looking forward to a great time of competitive flying, fun, and fellowship. Free Flight is the oldest continuously developing form of model aviation activity.
"We enjoy myriad forms of events as arranged by the Academy of Model Aeronautics, the National Free Flight Society, the FAI, the Flying Aces Club, and the Society of Antique Modelers.
"Come to the main tent each morning at 8 for announcements of welcome and field restrictions. Stay cool and healthy and enjoy the thermals! Let me know of any concerns as they arise. Yours, Andrew R. Barron."
There's a broad spectrum of complexity in FF models. FAI events usually feature the most technically advanced models. AMA events are the next most technical. NFFS events are medium-tech. FAC and SAM events are for simple, old-fashioned balsa-and-tissue models. FAC features the only scale events for FF. Some are judged statically for fidelity to full scale, but most are not.
Most FF events are judged on pure duration—usually a total of three flights plus flyoffs to break ties. Competitors aim for a flight duration maximum ("max"), which is based on the wind conditions and the size of the field. For FF events at the Muncie Nats, the standard max is 2 minutes. When a competitor attains three maxes in a row, he or she may proceed to attempt flyoff flights, which get progressively longer and more difficult to attain.
In FAI events, the max is usually longer (3 or more minutes) and the number of regular flights preceding the flyoffs is either five or seven. Also, FAI competition is flown in 1-hour rounds whereas all other FF events are not. The exciting mass launch events feature all models launching together … fun!
For the next five days, Rick Pangell will be shouldering FF NatsNews reporting/photography duties. Say hi to Rick on the field, and make sure relay to him any newsworthy happenings so he may include them in NatsNews. Thermals!
Here are the top threes from the 2018 AMA FF Nats:
A Gas (20 flew): Guy Menanno, 900; Gerald Brown, 867; Neal Menanno, 733
C Nos Gas (13): Bob Sowder, 571; Larry Davidson, 471; Doug Marsh, 470
OT ABC Pylon (2): Hank Sperzel, 314; Richard Kacmarsky, 154
Large Nostalgia Rubber (5): Jim Gerszewski, 460; Ed Sneed, 453; Ed Hardin, 442
F1G (Senior/Adult) (11): John Clapp, 570; Mike Richardson, 569; Don DeLoach, 559
F1G (Junior) (2): Bradin Powell, 232; Elliot Plantner, 195
Electric A (19) : Jack Murphy, 583; Clint Brooks, 454; Yuda Avla, 440
Dawn Unlimited (6): Bud Romak, 457; Mark Vancil, 258; Gerald Brown, 255
F1P (1): Mike Fedor, 688
HL Glider (Adult) (19): Jan Langelius, 347; Don DeLoach, 329; Stan Buddenbohm, 323
HL Glider (Senior) (2): Kyle Gerspacher, 293; Hailey Mattson, 40
HL Glider (Junior) (5): Bradin Powell, 95; William Wicks, 64; William Reuter, 62
1/2A Gas (Adult) (12): Terry Kerger, 900; Jim Bocckinfuso, 662; Guy Menanno, 357
1/2A Gas (Junior) (1): Bradin Powell, 136
1/4 A Nostalgia Gas (8): Glenn Schneider, 336; John Oliver, 281; Bob Hanford, 277
Early 1/2 A Nostalgia Gas (9): Larry Davidson, 339; Bob Sowder, 331; Bob Hanford, 316
C/D Classic Gas (11): Brad Bane, 1034; Dan Berry, 900; Ronnie Thompson, 740
CLASSIC TOWLINE (6): Ken Bauer, 483; Steve Spence, 461; Tom Peadon, 324
Super D (3): Denny Dock, 600; Doug Marsh, 456; Roy Stewart, 120
P-30 (Senior) (1): Hailey Mattson, 146
P-30 (Junior) (2): Bradin Powell, 276; William Reuter, 139
P-30 (Adult) (18): Dan Berry, 510; Jerry Murphy, 508; Don DeLoach, 457
OT Rubber Stick (9): Bud Romak, 780; Paul Crowley, 780; Ed Sneed, 762
F1S (19): Stan Buddenbohm, 720; Chuck Etherington, 664; Yuda Avla, 593
Pee Wee 30 (3): Bill Kuhl, 1135; Rick Pangell, 1067; Richard Kacmarsky, 1012
Small Nostalgia Rubber (9): Bud Romak, 540; Ed Hardin, 513; Bob Hanford, 506
1/2A Classic Gas (Sr./Adult) (15): Ronnie Thompson, 750; Dan Berry, 672; Jim Bocckinfuso, 654
1/2A Classic Gas (Junior) (1): Bradin Powell, 173
F1B Wakefield (17): Cameron Ackerley, 1741; Alex Andriukov, 1712; Aram Schlosberg, 1650
B Nostalgia Gas (13): Gene Smith, 1560; Bob Sowder, 1237; Larry Davidson, 1178
E-36 (Senior/Adult) (35): Yuda Avla, 960; Bob Sifleet, 892; Dick Ivers, 719
E-36 (Junior) (1): William Wicks, 339
Catapult Glider (30): Stan Buddenbohm, 440; Kit Bays, 411; Kurt Krempetz, 407
Cargo (2): Rudy Kluiber, 1824; Bob Hanford, 606
B Gas (14): Guy Menanno, 1200; Dan Berry, 1186; Denny Dock, 876
F1J (Senior/Adult) (5): John Lorbiecki, 600; Glenn Schneider, 578; Guy Menanno, 555
F1J (Junior) (1): Hayden Ashworth, 120
OT ABC Cabin (4): Bud Romak, 342; Hank Sperzel, 317; Simon Blake, 306
1-Design: Betty's Baby (58): Darold Jones; Bud Romak; Norm Furutani
OT Catapult Glider (22): Don DeLoach, 356; Tim Batiuk, 322; George Dalecki, 302
Old Time Rubber Cabin (7): Ray Boyd, 924; Ed Sneed, 750; Don DeLoach, 734
F1C (2): Don Chesson, 243; Dick Mathis, 226
F1Q Electric (6): Bob Sifleet, 126; Dick Ivers, 1244; Jack Murphy, 1241
Jetex (5): Bob Hanford, 240; Chris Matsuno, 208; Rudy Kluiber, 171
Mulvihill (Adult) (15): Chuck Markos, 1622; Bud Romak, 1543; Gerald Brown, 1184
Mulvihill (Senior) (1): Hailey Mattson, 264
Mulvihill (Junior) (3): Bradin Powell, 288; Elliot Plantner, 148; William Reuter, 119
ROW Gas (3): Mike Fedor, 204; Dan Berry, 157; Jim Kelly, 6
1-Design Gas Combo (14): Glenn Schneider, 1315: Rudy Kluiber, 827; Doug Marsh, 669
A Nostalgia Gas (15): Bob Sowder, 840; Simon Blake, 801; Gene Smith, 668
C Gas (15): Guy Menanno, 2100; Gerald Brown, 869; Jim Demeritte, 750
F1H (5): Ken Bauer, 600; Mike McKeever, 544; Mike Fedor, 534
ROW Rubber (4): Ted Firster, 255; Chuck Powell, 179; John Diebolt, 37
ROW Hydrostar (1): Kit Bays, 50
1/2A E-Nostalgia (5): Jim Jennings, 360; Ed Hardin, 300; Clint Brooks, 297
1/2 A Nostalgia Gas (19): Roger Erridge, 587; Bob Hanford, 557; Doug Marsh, 457
A/B Classic Gas (14): Gerald Brown, 1500; Ronnie Thompson, 1455; Dan Berry, 887
Andrade Rubber (12): Norm Furutani, 540; Bud Romak, 527; Jim O'Reilly, 523
D Gas (12): Guy Menanno, 1200; Gerald Brown, 1176; Terry Kerger, 1026
.020 Replica (7): Brad Bane, 360; Roger Erridge, 357; John Oliver, 299
Electric B (18): Drake Hooke, 1680; Dwight Scott, 924; Bob Sowder, 838
Moffett (11): Herb Kothe, 840; Ed Hardin, 775; Jim O'Reilly, 760
OT HL Glider (11): Don DeLoach, 218; Jace Pivonka, 205; Jim Hack, 150
Payload (2): Rudy Kluiber, 274; Denny Dock, 269
FAC Jimmy Allen (6): Clint Brooks, 356; Pat Murray, 325; Dave Niedzielski, 316
FAC Low Wing Trainer (7): Don DeLoach; Dave Niedzielski; Wally Farrell
FAC OT Rubber Stick (9): Wally Farrell; Ed Hardin; Don DeLoach
FAC Dime Scale (9): Dave Niedzielski, 343; Don DeLoach, 307; Pat Murray, 292
FAC Hi-Start Glider (3): Dave Niedzielski, 203; Wally Farrell, 182; Chuck Powell, 117
FAC Golden Age (5): Wally Farrell, 349; Pat Murray, 300; George Bredehoft, 139
FAC OT Rubber Fuselage (8): George Bredehoft, 360; Don DeLoach, 342; Jim Gerszewski, 296
FAC Embryo Endurance (6): Wally Farrell, 354; George Bredehoft, 335; Pat Murray, 242
FAC Thompson/Greve (6): Don DeLoach; Pat Murray; Wally Farrell
FAC World War II Combat (4): Wally Farrell; Pat Murray; George Bredehoft
FAC Peanut Scale (5): Wally Farrell, 126.5; Pat Murray, 124.0; Gene Smith, 122.0
FAC Rubber Scale (4): Pat Murray, 166.5; Wally Farrell, 151.5; Dave Niedzielski, 144.0
FAC Modern Civil Scale (5): Gene Smith, 353; George Bredehoft, 278; Pat Murray, 241
FAC Jet Catapult Scale (10): Don DeLoach, 141; Kit Bays, 118; Chuck Powell, 107
FAC WWI Combat (3): Wally Farrell; Don DeLoach; Pat Murray