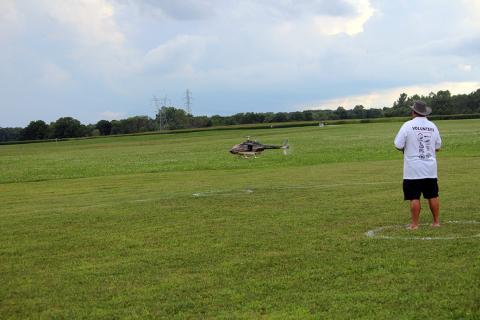 By Mike Unger
Well its finally that time of the year again: the 2020 Helicopter Nats! If you are like me, given everything that is going on in the world, I never expected to be writing about Nats this year, but here we are …
On Sunday, Craig Bradley and myself, with the help of Josh Green and the AMA grounds crew, worked to get the flightlines set up, fields mowed, and tents moved into position. Sunday evening, we had a pilots' meeting with the plan to start the competition Monday morning at 8 a.m. The field of pilots is understandably smaller this year, but the few who did show up planned to enjoy themselves competing while practicing social distancing on the 1,000-acre International Aeromodeling Center.
Monday morning the weather cooperated, and we started the competition on time with the FAI F3C class starting things off. These pilots are all flying a newly released flight schedule, so it was a good time for everyone to compare notes on how to tackle the new maneuvers. With the limited number of pilots entered, and surprisingly favorable weather conditions, we were able to do four rounds of competition.
In the F3C class, Nicholas Maxwell leads after the preliminary round by a sizeable margin. However, the next three competitors, Mike Goza, Tim Diperi, and Yasunobu (Nob) Muraki, and are all separated by only 11 normalized points. With the competition changing over to the more challenging F schedule for the final three rounds, it's shaping up for an interesting battle for second, third, and fourth place.
We also have two competitors in the Advanced class. Both very solid pilots: last year's Sportsman champion, Angel Rojas, and multiple podium finisher, Michael Parker.  After four rounds, Michael leads Angel winning three of the four rounds.
We also had a couple of Scale competitors this year.  Long time F3C competitor Tim Diperi built a Scale Tennessee Police Helicopter to compete this year. He is joined by Michael Zaborowski and his beautiful EC135 Eurocopter.  After static scoring and one round of flying, Michael leads but Tim is doing some solid flying to keep Michael on his toes. We will be back at it Tuesday for the final three rounds.
Check out all 2020 RC Helicopter Nats coverage HERE.