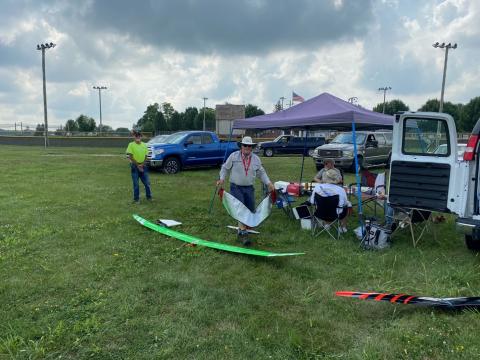 LSF Cross Country Day 2
By Wally Adasczik
What a great day for Cross Country (XC)! The whole Parker City Parks and Recreation department showed up, Mr. Mick Beckman, and hung out with us for a few hours. He was very happy that the Parker City, Indiana, park was being used and asked all sorts of questions. The gang learned that he has been with Parker City Municipal for over 55 years! True dedication there, if I say so. Mick is that handsome lad in the light green shirt in the next photo.
It was a lazy start to the day for sure. World hunger needed solving over at the main AMA field for F3RES. When that fire was beaten down, we all hustled over to Parker City.
Mick Beckman and Carl Thuessen were getting set up while other folks kibitzed.
Kent Nogy launched for another sled ride. The air was very soft, as the humidity and temperature were matching numbers. Eventually, John Marien launched and worked some lift and off we went! The sailplane traveled 3.5 miles down the road and hit the mother of all sink holes and landed. A photo of John and Carl Thusessen in the back of Wallys Country Cadillac is below.
Where is all the lift? Booming clouds everywhere! Jeff Carr found it! In fact Jeff found it so well he lost the Platform in cloud base! Full flaps, and spiraling for over a minute and it was gone. Kent Nogy finally got a glimpse of it! It was way downwind but coming back to the field strong!
The chase team was coming back from John Marien's flight and came across Jeff and Kent walking up the road a good 1/4 mile from launch! Jeff was determined for sure.
After dumping John and Carl off, the team raced back to Jeff and Kent. Down the road we went—all the way to the turn point at 6.2 miles! After turning around and heading back to launch, Jeff made it a half mile back, hit sink, and he was done. He logged a 6.7-mile flight! The longest so far. Jeff looking for his Platform …
In characteristic style, Tom Broeski provided some entertainment with his bubble machine. Hey if the  bubbles are going up, lift is nearby, at least that's what some say …
That's it for Thursday.