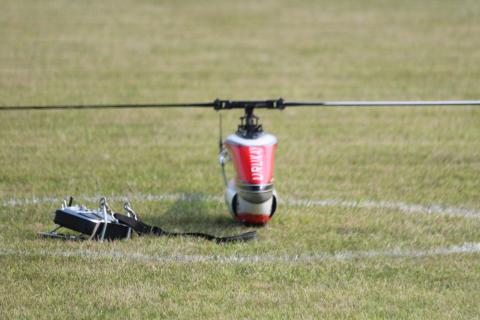 By Mike Unger
Well, it's the beginning of August and that means it's Heli Nats time again. 
With COVID turning everything upside down last year, it is nice to have a more normal Nats competition this year. 
I showed up at the field expecting to help Craig Bradley get things set up, but to my surprise, almost everything was done. Josh and the AMA grounds crew did their usual fantastic job of setting up the tents, and providing us chairs, tables, and some extension cords. Craig mowed the flightline areas and Tim and company got the flightline all painted up. By the time I showed up Saturday afternoon, practice flights were underway and everyone was eager to get started. So on Sunday, August 1, that is exactly what we did.
Since all of the advanced F3C class pilots were in attendance, the decision was made to start flying Sunday at 10 a.m. and try to get two rounds of F3C and Masters classes in.  We have four pilots in the Masters class and seven in the F3C class. With the exception of a brief 20-minute downpour, things went off without a hitch. 
The wind was in the 15-18 mph range in the afternoon, which, even for the Advanced class pilots, made things challenging. We finished about 4 p.m. with two rounds complete and a good start on the competition.  
After two rounds this is how things stand. Four more rounds to go ...
Masters Class (F3C P schedule only)
Gordie Meade                   2000
Jim Hall                                 1644.56
Angel Rojas                         1590.7
Michael Parker                  1363.05
F3C Class
Nicholas Maxwell             `2000
Clifford Hiatt                       1747.19
Yasunobu Maraki             1713.55
Michael Goza                     1577.36
Tim Diperi                           1448.77
Chris Diamonte                 1428.94
Robert Montee                 1351.15
On Monday morning, we will add in the AMA classes to the competition rotation. This year, we have nine pilots entered in the Sportsman class. This in the first rung on the competition ladder and we are very pleased to have so many new pilots trying their hands at competition. These pilots will not only be challenged with plenty of competition, but will also have the chance to get help and advice on flying, helicopter setup, and everything in between from some of the best pilots in the country.
We will also see competitors in the AMA Advanced class and some pilots showing of their impressive Scale machines.  If you are in the area, be sure to stop by, say hi, and watch some of the best precision pilots in the country compete.