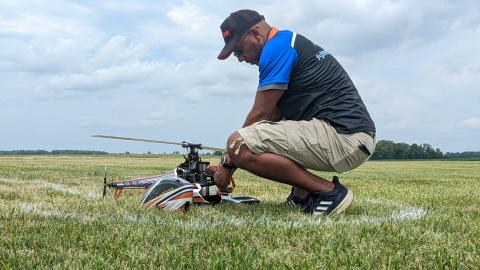 By Michael Parker
We started Monday, August 8, the first day of the 2022 RC Helicopter Nats, with a partly cloudy sky and wind coming from the southwest, with a steady wind of 11 mph.
There are three pilots competing in Sportsman, four in Expert, eight in F3C, five in F3N, and four in 518 Scale this year. This year is a big year because it's team trials for F3C and F3N for the 2023 Worlds. So, we have a good turnout for F3C and F3N.
The storms have held out for us until the end, but the wind has proven to be a challenge for all of us.
End of day 1 the results are:
Sportsman:
Brian Byrdsong 2,000.00
Michael Lewandowski 1,532.35
Daniel Lucente 1,326.04
Expert:
1st Gordie Meade 2,000.00
2nd Michael Parker 1,796.01
3rd Angel Rojas 1,781.92
FAI/F3C:
Nick Maxwell 2,000.00
Yasuichi Sawamura 1,967.30
Yasunobu Muraki 1,662.10
Cliff Hiatt 1,651.23
Michael Goza 1,607.03
Tim DaPeri 1,520.56
Christopher Diamonte 1,504.87
Samuel Corlett 1,449.22
FAI/F3N:
Nick Maxwell 1,000.00
Jamie Robertson 926.31
Cade Ciripompa 787.36
Christopher Diamonte 579.31
Alexander Jaffe 566.81