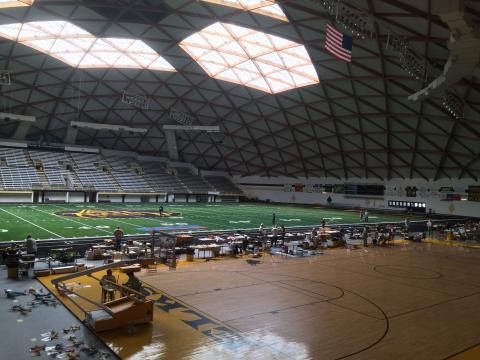 By Don DeLoach
(Photos from the 2019 and 2021 Indoor Nats)
The 96th AMA National Aeromodeling Championships (Nats) got underway today, May 24, 2022, with Indoor Free Flight.
The flying site is a very large domed stadium in a small town in far-eastern Arizona. The Round Valley Dome in Eagar/Springerville is the only indoor high school football stadium in the United States. It's also used for gymnastics, track, basketball, and in the off-season car shows, community events and yes, Free Flight.
I first visited the Dome in 2006 with Chuck Etherington. We were on our way to the Southwest Regionals in Eloy, Arizona, and wanted to check out this prospective indoor flying site. We walked around, took pictures, and were impressed. We immediately saw its potential as a world-class venue for Indoor FF. Now 16 years on, the Dome is regular use by the Phoenix Model Airplane Club, and this will be the second Nats held there.
The first Round Valley Nats were in 2019. The 2020 Nats were also scheduled for Round Valley, but fears of COVID-19 forced their cancellation. Last year, the Nats were held in Pontiac, Michigan.
Here are the winning scores from the last Round Valley Nats:
2019 Indoor NATs Winners – Round Valley Dome, Arizona
A-6 [12 flew]
Christie, Hamish 8:13
ROG Stick [2]
Murphy, Jerry 4:31
Easy B [3]
Romash, Robert 14:55
Electric [2]
Silin, Dmytro 4:25
F1D [4]
Palmer, Jake 41:09
F1L [7]
Pilachowski, Leo 28:17
F1M [4]
Mcgrath, John 17:08
F1N [3]
Buddenbohm, Stan 3:35.5
F1R [1]
Silin, Dmytro 7:17
Hand Launch Glider [5]
DeLoach, Don 2:24.6
Helicopter [2]
Silin, Dmytro 5:53
Limited Pennyplane [13]
Massey, Jimmy 14:31
Manhattan Cabin [2]
Aronstein, David 7:36
MiniStick [11]
Romash, Robert 9:07
NFFS Towline [3]
DeLoach, Don 3:56.8
Ornithopter [2]
Silin, Dmytro 7:51
P-18 [12]
Alves (J), Logan 3:53
P-24 [1]
Etherington, Jr, Chuck 4:33
Pennyplane [3]
Romash, Robert 11:38
ROG Cabin [2]
Aronstein, David 8:37
Std. Catapult Glider [15]
Buddenbohm, Stan 2:27.6
Unltd. Catapult Glider [5]
Buddenbohm, Stan 3:11.5
USIC No-Cal [4]
Romash, Robert 5:32
FAC Phantom Flash [8]
Christie, Hamish 6:00.0
AMA Bostonian [5]
Nunez, Johnathan 628.9
Ministick Mass Launch [7]
Romash, Robert 9:08
FAC Flying Horde ML [7]
Aronstein, David 3:18
P-18 [13]
Mcgrath, John 3:40
 FAC WW I ML [3]
Nunez, George 1:16
FAC WW II ML [9]
Aronstein, David 3:45
Coconut Scale [3]
Aronstein, David 3:35
FAC Greve/Thomp. ML [5]
DeLoach, Don 1:29
FAC Greve/Thomp. No-Cal [5]
Aronstein, David C 4:04
Coconut Scale ML
Aronstein, David 
FAC Embryo
DeLoach, Don 422
Golden Age Combined
DeLoach, Don 358
FAC No-Cal Scale
Aronstein, David 360
FAC Dime Scale
Norell, Thomas 347
FAC Peanut
Nunez, George 297
FAC High Wing Peanut
DeLoach, Don 231
The official height of the Dome is just under 100 feet, putting it right under the limit for AMA Category III. What isn't ideal is the site elevation of 7,080-feet MSL. The thinner air results in about a 10-15% loss in theoretical flight duration. For this reason AMA record-setting scores are not likely, but always possible given that there are thermals during the heat of midday inside the Dome.
Excitement is definitely at a high level for this Nats. Flying runs five days, Tuesday through Saturday. Flying hours are 8 a.m. to 9 p.m. each day except Saturday which runs 8 a.m. to 5 p.m. There's a unique flying schedule this year: Each of the event classes except the mass launches are permitted to be flown over multiple days. This means we won't have final results until Friday night for the seven lightweight events (F1D, F1R, Cabin, HL Stick, Intermediate Stick, Helicopter and Ornithopter). The other 31 events don't finish up until Saturday.