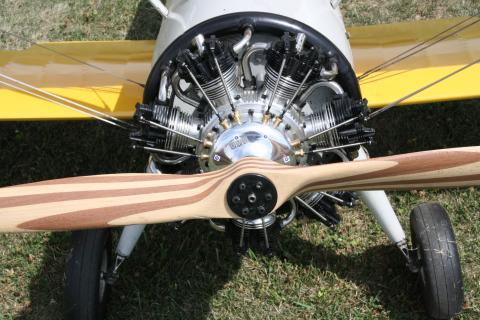 By Stan Alexander
This year's Nats started with practice on Thursday for many of the competitors arriving early to Site 4 at the back of AMA's property. Unfortunately, at least half of the grass runway was overrun with ruts, tire tracks, as well as footprints from careless people abusing newly sown grass. All of that will have to be reseeded and rolled again.
The weather on Thursday was good with a crosswind, but it sure didn't stop anyone from flying. Practice showed that some models were ready to compete and others still had some bits to work out in the models or flight routines.
All AMA RC Scale classes are held, and on Friday morning we had a good selection of models to static judge in Sportsman, Expert, Open, and Designer classes. Two sets of static judges checked the documentation verses the model and made their decisions based on years of experience in judging.
F4H class RC class was added this year, as well as F4B in Control Line Scale. The intention is to work on having a F4 Team for 2024 for the World Championships. We are going to have to get the numbers up in both classes to be competitive. But with the core group, we know this is very doable.
With incoming weather Friday evening and possibly Saturday, the decision was made to go ahead and start the first round. Flight competition started approximately 12:30 p.m. and finished in a light rain by 4 p.m., getting in the first round of competition.
Have you ever tried RC Scale competition? It's pretty easy in Fun Scale where the model only has to score 5 points and look like a full-scale aircraft of the same type. You fly 10 maneuvers including takeoff, flyby, a Figure Eight, five options for the aircraft of your type, and landing and realism. That's it! Pretty simple. 
There are many modelers who will be willing to help you along the way with future ventures into static judging and documentation, picking flight maneuvers and achieving realism in flight. A good way to do this is to watch the experts, their flight maneuvers, and how they set up for them.
John Boyko and crew did an excellent job with the event on Thursday and Friday as well. The grounds crew did the best they could with the grounds and keeping it mowed too. Some rain overnight will help to soften the runway and hopefully make some softer landings.
Fair Skies & Tail Winds.