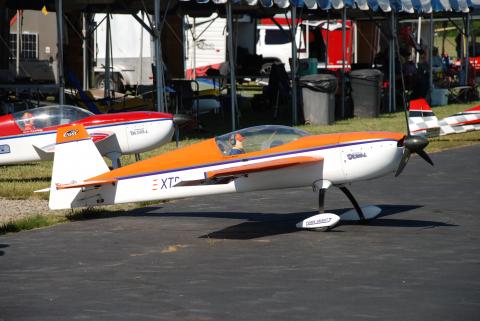 By Amanda Darling
Thursday, June 30, started out beautiful for the third day of the 2022 RC Scale Aerobatics Nats. The wind picked up slightly out of the south-southwest. The first airplane took off at 8:30 a.m., and the day progressed quickly.
There were wind gusts here and there, but the sun was shining and the 94° weather was incredible.
We were able to fly one Unknown and three rounds of Knowns—well-flown rounds at that.
After all of the flying was done, everyone got cleaned up and met at the AMA's National Model Aviation Museum. We enjoyed a lovely dinner and a slideshow of past and present Nats, as well as contests in each region since January.
Prizes were also awarded. There were two big prizes this year, a new radio donated by our major sponsor, JR PROPO. That prize went to Glen Lundigren, and a 92-inch Laser Z200 from AJ Aircraft went to Kurt Koelling. Congratulations to all of the pilots!
The fun did not stop there. Nick Scharping provided us, as well as AMA staff, a spectacular firework show.
Friday brings the final day of the contest. We hope for good weather, however, the wind might be stronger approximately midmorning.