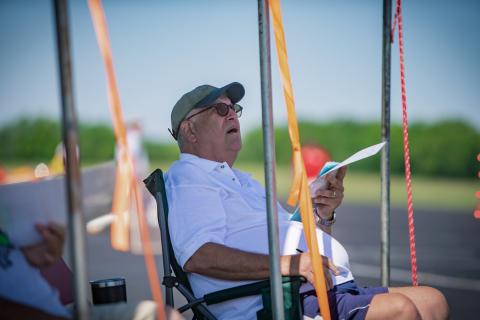 By Amanda Darling
Wednesday, June 29, was another beautiful day at the IMAC Nats! The sun shined once again on Muncie! Whoever ordered the weather, keep on ordering it—low temps, a light breeze, and plenty of blue sky.
Pilots began their day with full bellies and there was an eagerness to get in the air. So 8:30 a.m. came and pilots hit the air. Besides two minor hiccups, the morning flowed smoothly with two flightlines working together.
For the second day of the contest, we started with a round of Unknowns. It was a great round with plenty of amazing flights. Then four rounds of Knowns were flown. So, we now have 7 rounds of Known sequences and two rounds of Unknowns, finishing the day at 5:30 p.m., just in time to gather for an amazing shrimp boil. This is a great start for two days of competition. There was plenty of laughter and even an outdoor cinema to close the night down.
Lunch was provided by Eagle Aviation and consisted of veggies, summer sausage, crackers, cheese, and popcorn.
Day 3 is promising a mild breeze and plenty of sunshine. Pilots will be attending the banquet and firework show at sunset. If you are in the Muncie area, come enjoy a spectacular firework display presented by Nick Scharping.