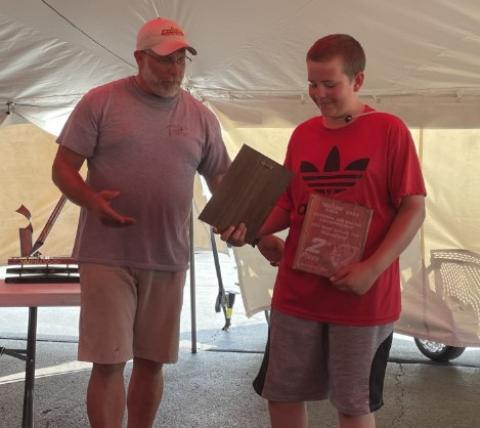 By Dan Kane
The 2022 Pylon Nats have come to a close. We finished 4 rounds of AMA 422 on Friday, July 22, which, in turn, provided 10 complete rounds of racing.  One change from years past was the running of a single matrix in the main events. 
In years past, CD Mike Condon ran a qualifying/finals event. The Pylon crew is usually split right down the middle whether they like finals or single matrix. It will be interesting to see how this year was received by the competitors. 
Mike Condon truly tries to do what is best for all competitors. Mike has been the CD for the Nats for several years and as usual, he ran a tight ship with the best workers we have had in several years. Early rounds of Q-40 yielded nearly half the pilots receiving zeros for double cuts. Several pilots voiced their disbelief and were quick to point out that there must be a worker problem. Mike personally went to pole #1 and observed several heats and there wasn't a worker problem. I think the anticipation, the longer course, and the excitement got to some pilots and callers. 
My son and I had spent 21 days in Muncie. That is a long time away from home, family, and work. I wouldn't trade it in for anything. 2022 was very special for the Kane family. Early on, I called for my son, Jack, in EF-1 and he won his first Nats. For three days, he was the only National Champion in our house. However, I had some luck on my side in Q-40 and was able to squeak out the win—giving both of us our 1st Nats title. 
I have won some big races, but the Nats title had eluded me. This burden had squarely sat on my shoulders for many years and I truly wasn't sure it would ever happen. One of the best parts of winning was that I had Jack right there with me. He called the perfect contest. And on this day, together we came out on top. 
Family is very important to me. And over the past 21 days, we had so many extended family members. It was an incredible experience to be able to share every minute with all.  Congrats to all the winners in all the events. A huge thank-you to all who made the annual journey to Muncie, and I look forward to next year.
Mike works extremely hard to make the Nats special for everyone. I am forever grateful for what he does for the sport of Pylon Racing. I will miss our early morning breakfast gatherings and late-night grilling near the campers. There are tons of memories that will be remembered for many years to come. Thank you Mike.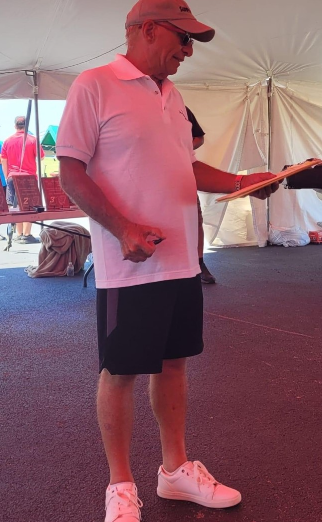 Chuck Andraka also deserves a huge thank-you for all he does. Chuck handles the matrix building and scoring for the Nats—another one of those jobs that occurs without issues. Tons of care and fairness goes into what he does for all of us.  lease make sure to send him a note of thanks. On top of all that, Chuck called for two of the top pilots, as well as competed. It's a tall order and it is done at the highest level.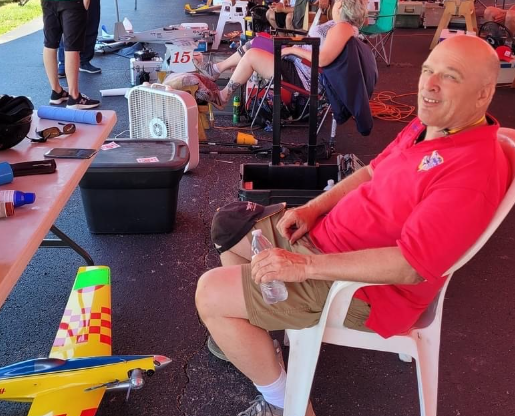 Tom Melshimer is usually the first on-site and the last to leave. He sets up and tears down, all so we can play. We can't do what we do without guys like Mike, Chuck, and Tom. Together, these three have made the Nats an incredible experience. As talked about previously, Tom has poured his heart into a light and timing system that has changed the game for US Pylon Racing—all done on his own dime for us. I hope pilots think twice before going off on volunteers. These guys are gold and we are forever indebted to them.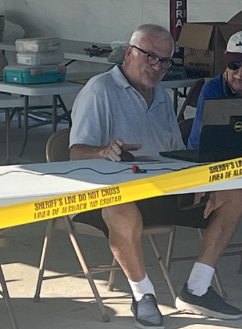 Saving one of the best for last, Trey Witte is the NMPRA president. Trey, like Mike and myself, has spent the last 21 days in Muncie. He was responsible for the NMPRA banquet as well as working closely with Mike and the AMA to make sure the Nats happens smoothly. He too competes and gives up everything to help other—a quality that is honorable but does sometimes impact one's own performance. Like many others, Trey would do it all over in a heartbeat if it meant helping someone get better or move up in Pylon. Trey, you are truly a special person and we couldn't do it without you!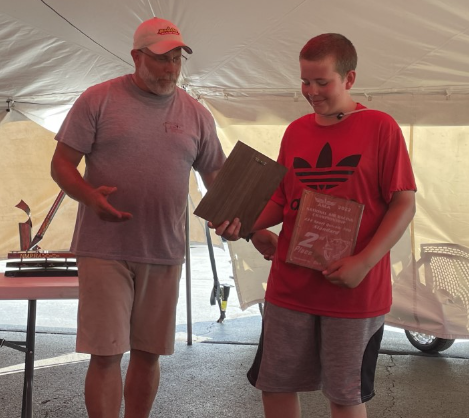 Three members of the Australian FAI team spent an extra week in Muncie to compete in Q-40. This would be the first time they had raced the US-style of racing. They all flew models from Karl Harrod and proved that they could hang with the best in the US. All three pilots finished in the top 10! They definitely, can find a good time and were always smiling! Despite the gap between the World Championships and Q-40, they made the best of everything.
Tony Singleton (left) and Andrew Wall (right) are seen here with their 7th and 6th place awards.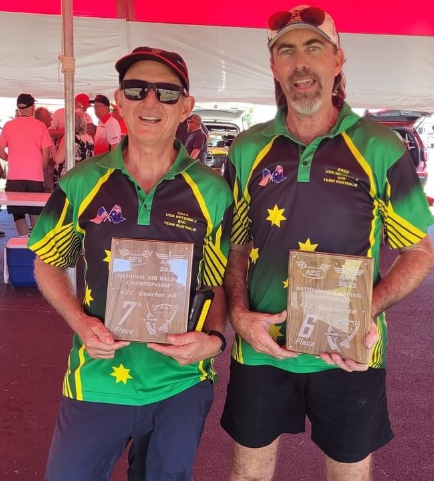 Here they can be seen sharing a laugh with Mike Condon, Ron Columbo, and Salvador Barrios. The third Aussie seen here on the far right is Steve Hughes. Steve took tons of photos and even had some livestreams going. This type of promotion is super valuable for spreading the word. It takes tons of time and effort, and I can't say thank you enough.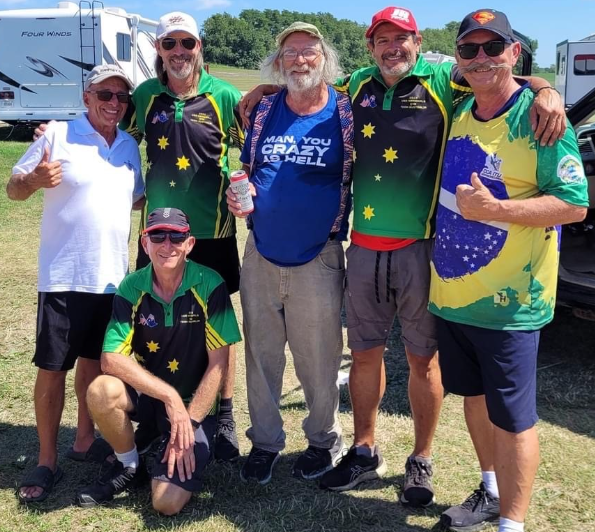 Here are some candid shots from Friday:
Salvador Barrios (Mexico) flew his Galloping Ghost model to tie for 3rd Place. Salvador can do anything. He can fly both Mode 1 and Mode 2. He calls for several competitors, as well as preps their models. This attitude is rarely rewarded, and today he made it all work. Congrats on a fantastic finish.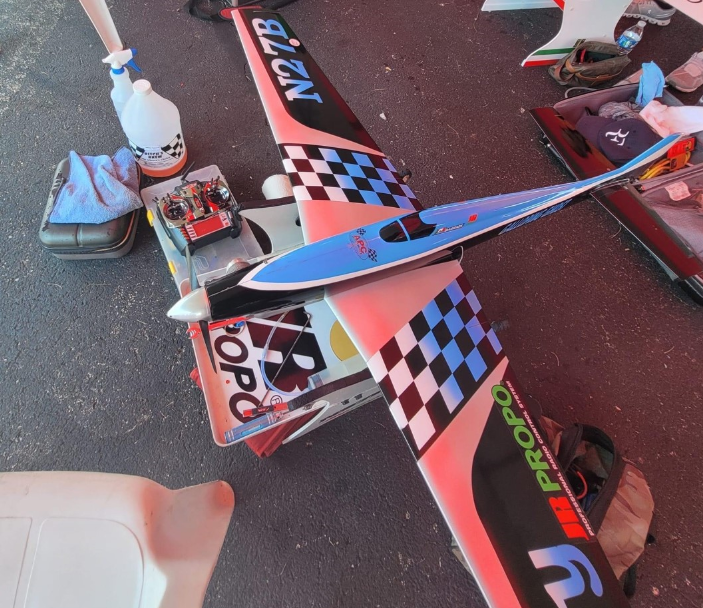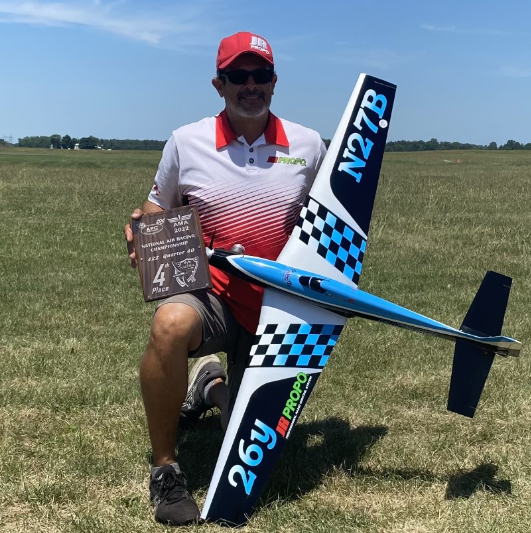 Bob Brogdon (Georgia) is seen here prepping his Vess AR6 model. Bob and his wife, Linda, are both NMPRA Hall of Fame members. Personally, I enjoy seeing and talking to both at the races.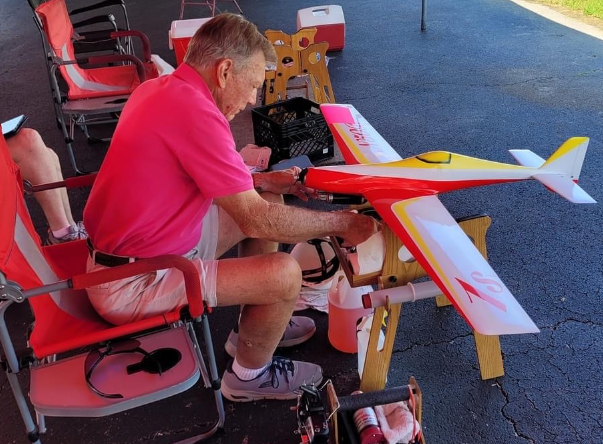 Laird Owens (California) made the trek across the country in his Vans homebuilt airplane. It has been several years since he participated in the Nats. He had the honor of finishing with a perfect score in Q-40. Unfortunately, that was because he received a zero in all of his heats. It's not from a lack of effort. His handmade Shark model was super-fast and smooth. Hope to see him next year.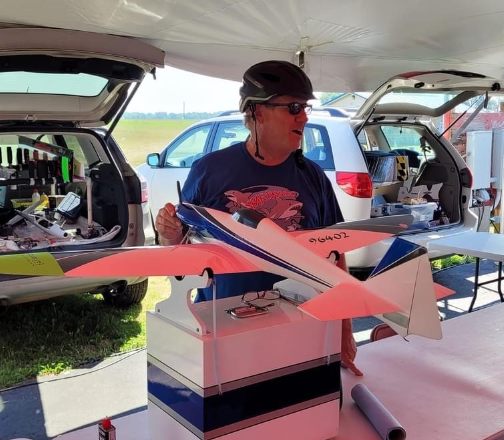 Rich Beers (on the right, from Oklahoma) finished 2nd in Q-40 and received the overall champion award for his efforts in 426 and 422. Along with his caller Dan Coe (California), they are some of the very best in the US and prove that hard work does pay off.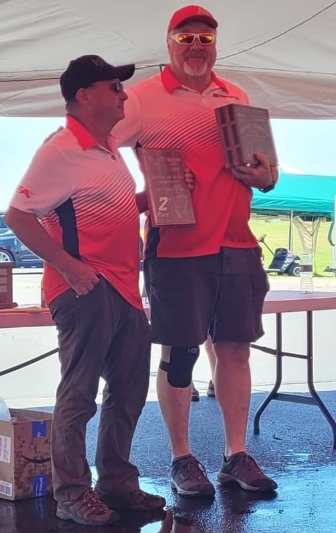 Travis Flynn (California) finished 3rd and had the fastest time for the contest. He turned his 1:00.93 in the first round and it was not able to be beat the entire contest. He flew a Miss Foxy Lady sold by Tom Scott and made by Steve Taylor.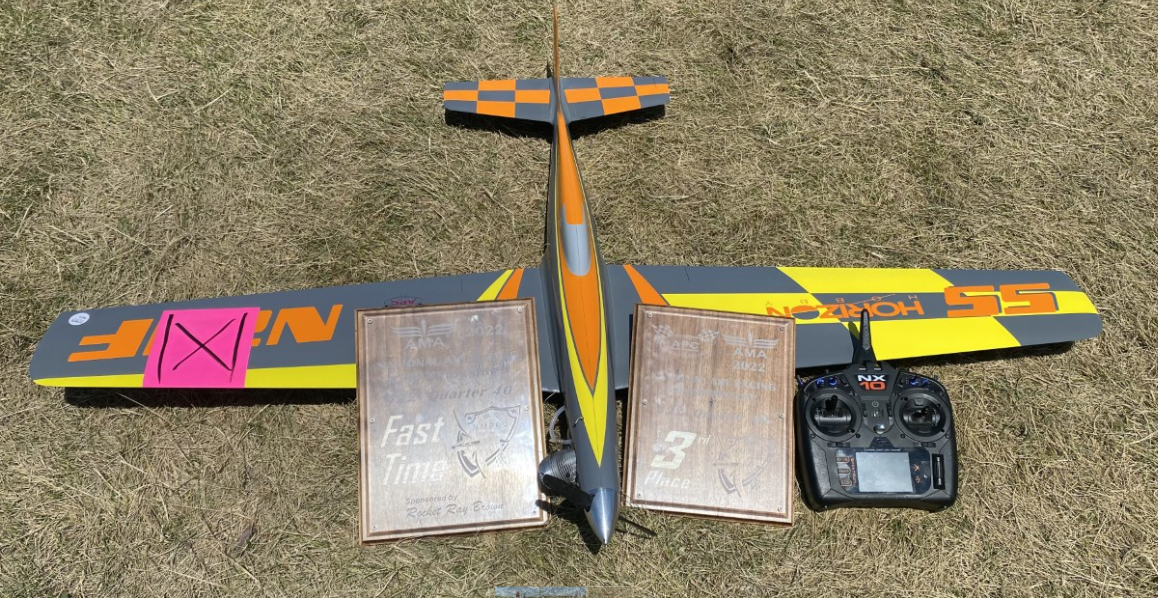 The winners (front row, L to R): Andrew Wall, 6th, Rich Beers 2nd, Dan Kane 1st, Jack Kane, Dan Kane's caller, Travis Flynn 3rd and Fast Time, Ola Nordell Standing holding Leo's Best Senior Model. Back row (L to R): Doug Kilebrew caller for Lee VonDerHey, Lee VonDerHey 5th, Tony Singleton 7th, Danny Coe caller for Rich Beers, Marcelo Carvalho caller for Salvador Barrios, Salvador Barrios 4th.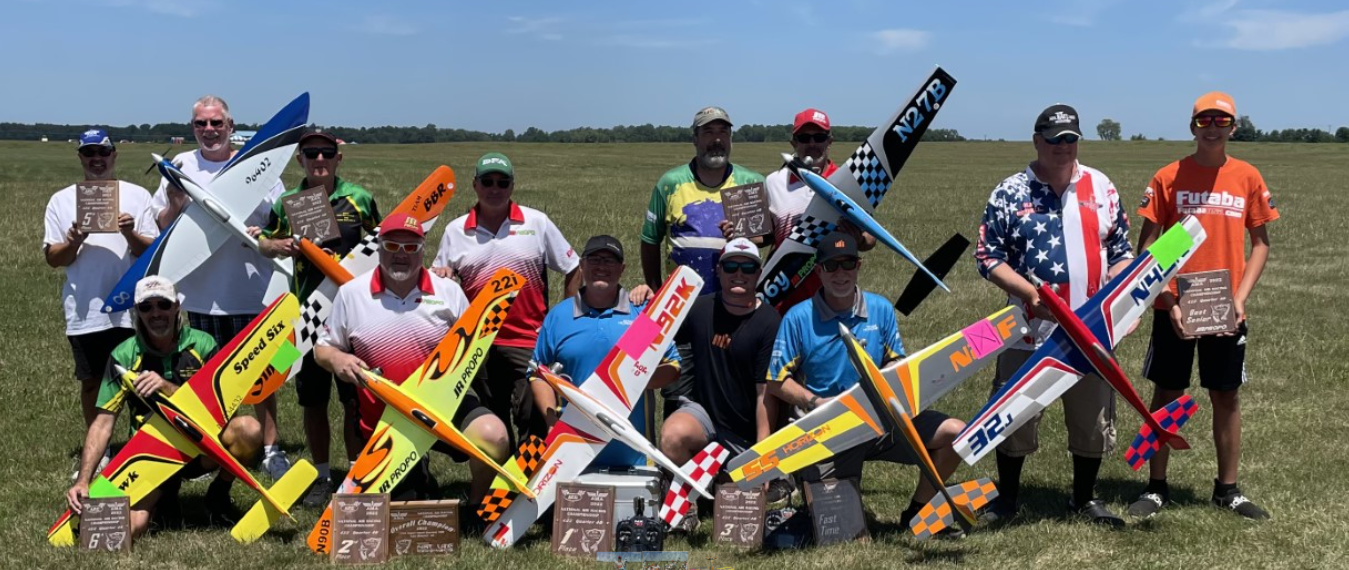 Dan Kane (left from lllinois) finished 1st with his son Jack Kane as his caller. It was quite an emotional journey for both of us. In the final heat, I had a midair which resulted in a broken prop with 3 laps to go. The model nearly shook itself apart, but I was able to finish and still stay ahead of Terry Frazer for the win, setting up a flyoff for 1st place with Rich Beers.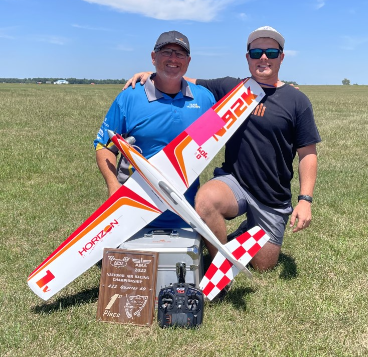 My son and I receiving our award just prior to getting soaked with ice water (thanks Bryan Blanchard). And on the right is the prop that was broken during the midair in the 10th round.