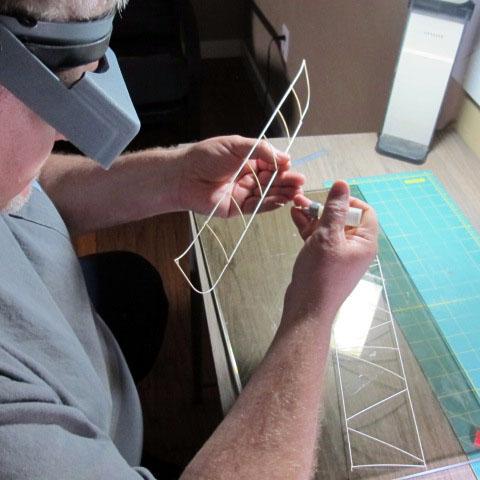 By Rob Romash (rob@eclipsetoys.com)
Lead photo: The flightline with 42 entries. This is the most populated Indoor Nats in the last few years.
Contestants descended on the dome Wednesday from all points, as can be seen by the variety of license plates in the parking lot.
The Day 1 tradition of starting out with glider events holds true here in Arizona. All through the building, you could hear the "buzz" of high-speed gliders ballistically shooting at the ceiling and the occasional crunch as something went terribly wrong.

Kurt Krempetz trims his performance model.
Most of the usual suspects are here: Tim "Erratic" Batiuk, Rob "No Neck" Romash, Don "Flip Flops" DeLoach, Stan "The Man" Buddenbohm, Kurt "The Killer" Krempetz, and a few new faces. Youngster Logan Alves is shown contemplating the infinite art of the glider.

Logan "The Beast" Alves shows good form.

Don "Flip Flops" DeLoach showing great form.

Rob "No Neck" Romash.

Kurt Krempetz's head is about to explode.
So far, everyone here is flying Discus Launch Gliders (DLG) in the Hand-Launch event. The last few years have seen a shift from overhand Javelin launches to the new hotness of DLG in all Hand-Launch Glider categories in both Free Flight and RC.

A Discus Launch Glider.

A Discus Launch Glider at the ceiling.

Henry Towes letting it all hang out during a Catapult Glider launch.
In the past, the Indoor Nats glider events usually happened early in the morning, but Wednesday it started at 4 p.m. As I wrote this article around 7 p.m., the sun began to set, giving the field inside an odd yellow glow. There are no lights here for night flying, so it was time to head out an hour later.
We did have some experimentation with high-output LED lights, and perhaps in the future, we can have night flying at this venue. With that being stated, many entrants are biding their time for the morning sun, where the expectation of some favorable air could come into play. This isn't a bad strategy.

Dick Wood staying focused.
In addition to the glider fliers, were entrants doing some testing for events later in the schedule. These were heavier-weight events such as Peanut Scale, Coconut Scale, and some FAC models. Combining these with gliders is usually not an issue, although a glider going at 50 mph does take the lead in any collision.

George Nuniez participating in Coconut Scale.
When the sun rises today, we will see the final flights of the gliders: Discus Launch, Catapult Launch (Standard and Unlimited), plus Jet Cat. Then we move into the lighter-weight models—where the best in the country are here to fight to the death!

A pretty Blohm und Voss Jet Cat.

Tim "Eractic" Batiuk with his finger accidentally glued to a model.

Tom Norell on an Ambroid high during a late-night build.