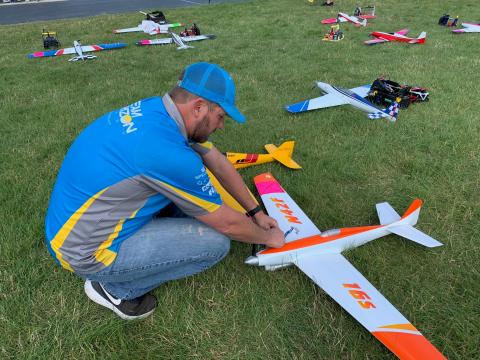 By Gary Freeman Jr.
422 started Thursday. This is the fastest class we fly at the nationals. The aircraft are semiscale Pylon Racers. They can do around 190 mph. There are lots of different options for aircraft and two motor selections. One is from Dub Jett and the other is a Nelson from Mike Langlois. Both engines are very competitive.
We were able to complete 6 of the 8 qualifying rounds Thursday with overcast and windy conditions. Unfortunately, there was a lot of carnage again, along with lots of cuts. In the top spot going into Friday is Dan Coe. Dan is super fast and flying great. One thing I have to say about Dan is not only is he kicking butt, but he is helping out a lot of other racers. This is a great to see and I got to give it to him for holding it all together and staying on top. He also has the fastest time so far with a 1:00.76. This is a smoking time in these conditions!
Q-40. Photo by Rachelle Haughn.
Haughn photo.
Haughn photo.
Haughn photo.
Haughn photo.
Haughn photo.