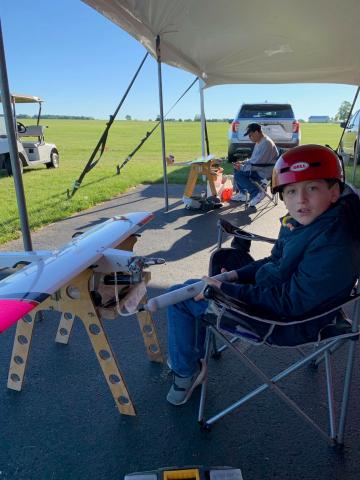 By Gary Freeman Jr.
Tuesday started off a little chilly, with temperatures in the low 50s. The good news was that there was little wind and that made from great racing conditions.
Event 426 is a one-engine class that uses the Dub Jett Super Sport .40.  All of the engines are very close in performance. As a result, this class has very tight heats in almost every race. We completed six of the eight qualifying rounds. The top 22 will make it, along with two "wild cards."
As I stated in Tuesday's blog post, there are many family teams racing and I love seeing it. I also love seeing family members out supporting their racers. As you can see in the pictures, the support is big.
On a personal note, today was the first time I can remember three generations all racing at the Nats. My son, Brody, my dad, Gary Sr., and myself. I'm very proud.
After six rounds of qualifying, Gino Del Ponte is in the lead with fast time of 1:01.84. Two more rounds will take place Wednesday and a lot could change for the top 22. Joanne Coffey is smoking fast and winning some tough heats. It's great to see her out kicking butt.
It was also very nice to see Bob and Linda Brogdon back. They have been such a huge part of NMPRA and racing.
Tuesday night was the annual banquet, and it was amazing as usual. NMPRA had two new inductions for the NMPRA Hall of Fame. One was Bruce Richmond and the second was Greg Doe. Both were people I met as a child and always looked up to. The honors are well-deserved and congratulations to both!