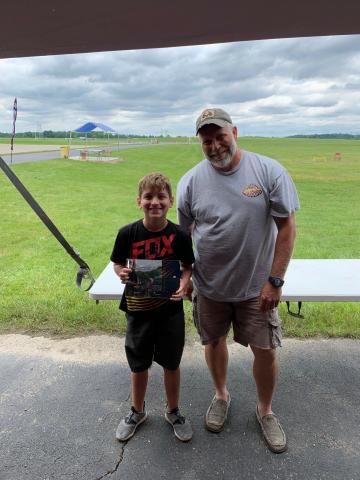 By Gary Freeman Jr.
On Monday, June 21, we competed in EF1. It is an electric class. It was a very windy day and made things challenging at times, but most handled it well.
EF1 is the only electric class that we race at the Nats. This is a box stock class that makes for some really great racing. We had 32 entries. There were lots of tight races and, unfortunately, a few lost airplanes.
What I loved most about Monday was how many younger people that I saw were involved with either calling, racing, or both. Gino DelPonte's son called for both Gino and AJ Hemken. Annabelle Dow was calling for her father, and near and dear to me, my son, Brody, not only called for me, but raced as well. He received the Best Junior award and he made me very proud. He is now officially hooked.
We need to keep bringing in some youth to our wonderful hobby. In the end, Travis Flynn took the win in a flyoff with Jim Allen. Travis also grabbed the fast time in this flyoff with a time of 1:07.62. I was honored to be his caller for this win and fast time, Tim Sparks won Best of Show with his beautiful Polecat.
Tuesday, we start 426 and we will be racing that for two days.
Brody Freeman received the Best Junior award.