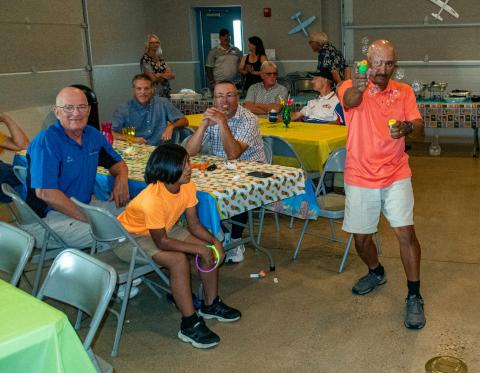 By Rich Whitlow
Friday started out blustery, but with no rain. So 8 a.m. came and pilots hit the air … and LOTS OF AIR there was! The wind was brutal, and pilots had to use all of their skills to get through their Unknowns … and LAND! Many pilots had to land across the runway the short way! That was quite a site.
Then the rain came. 
We had a flying break until around noon. Then the rain let off and flying started again.
We were able to get through one Unknown round and on Known round—well accomplished rounds, I might add.
After all the flying was done, everyone got cleaned up and met at the AMA museum and we had a wonderful dinner and honored the man that we named this year's Nats after, Mike Karnes. Memories and pictures were shared.
Some prizes were also awarded. The big prize was a new radio donated by our major sponsor, JRPROPO. That prize went to Nick Scharping. Congratulations!
Saturday brings our final day.  We hope for good weather and one more day of good times.
Pilot David Moser and his caller JJ Hedrick.

Ben Batts.
Pilot Kurt Koelling and caller Lou Matustik.
Primo Rivera.
Doug and Rosie Pilcher.
Nick Scharping winning the JR Radio.
Ty Lyman.