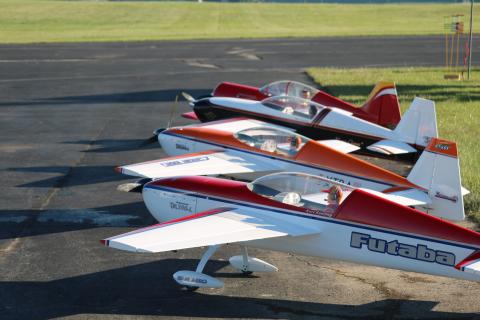 By Rich Whitlow
Thursday, June 17, was another beautiful day at the IMAC Nats!
We have had sunshine and light wind for the second day in a row. There seem to be some rain and storms that may come in, but we will hope for the best for the upcoming days.
As is customary on the second day of competition, we started with a round of Unknowns. It was a great round with some great flights. There were some flights that the pilots wish they could have another shot at flying! But that's another round of Unknowns under our belts. Then three rounds of Knowns were flown. So, we now have six rounds of Known sequences and two rounds of Unknowns. This is a good start for two complete days. 
To cap off the day, we flew a round of Freestyle to the thrill of the crowd.
There were some flight footprint issues on the site, so the pilots got together and it was decided that we will move to alternate sequences for Friday and Saturday. This means that all roller maneuvers will be removed.
Here's to a good day and hopefully more to come!
You can see scores at https://www.mini-iac.org/2021-US-Nats.
Ty Lyman.
David Moser.
Pilot Kurt Koelling and his caller, Lou Matustik.
(L-R): Rich Whitlow, Adrian Rivera, Primo Rivera, and David Moser.
Isaac and Toby Silhavy.
Guillermo Osses and his wife.
Adrian and Primo Rivera.
Pilot Isaac Silhavy and his caller, Ben Batts.
Dana Coe, who is enjoying retirement at the Nats.
Pilot Nick Scharping and his caller, Ben Batts.
Ben and Alan Batts.